Yuya Matsushita (松下 優也, Matsushita Yūya, born May 24, 1990 in Nishinomiya, Hyogo, Japan), also known as YOUYA, is a Japanese singer, actor, and former member of X4. He debuted in the music industry in 2008. Matsushita is well known for playing Sebastian Michaelis in the Black Butler musicals.
In 2016, Matsushita portrayed Tsukasa Domyoji in the stage production, Hana Yori Dango: The Musical.
Biography
Early life
Matsushita was born in Nishinomiya, Hyogo, Japan on May 24, 1990. He was raised by his mother and grandmother. In 2002, he began to pursuing a music career and enrolled in the Caless Vocal & Dance School.[1]
Career
In 2008, Matsushita released his debut single "foolish, foolish". He made his film debut in Kanashii Boyfriend. His song, "Mr. "Broken Heart"", released on his "foolish, foolish" single, was used as the movie's theme song.
His musical debut was in 2009 as Sebastian Michaelis in the Black Butler musical. He would reprise his role in the second Black Butler musical. His song, "Bird" was also used as the first ending theme song for the Black Butler II anime.
Fimography
Stage
Films
Dramas
Year
Title
Role
Notes
2011
Quartet
Takeru
Asu no Hikari wo Tsukame 2
Ren Kagami
2012
Pillow Talk: Bed to Omowaku
Kakeru
2014
Watashi no Host-chan S
Kageki
2016
Tamiou: Aratanaru Inbou
Kohei Nanbu
Beppinsan
Eisuke Iwasa
2017
Face: Cyber Hanzai Tokusouhan
Shuji Dazai
Ashi Girl
Nariyuki Hagi
2018
Ashi Girl: Chojiku Love-Com Futatabi
Nariyuki Hagi
Special
2019
In Hand
Kai Iriya
Episodes 3-5
2020
Soroban Samurai Kaze no Ichibei SP
Genichiro Kanbayashi
Special
Notes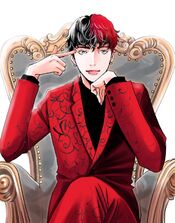 Yoko Kamio, author of Boys Over Flowers, gave Matsushita a signed illustration of Tsukasa in 2016.[2][3] Ririka Kato, Jin Shirasu, Ryuji Kamiyama, and Mackenyu also received signed illustrations.
Kamio went to see him perform in a 2018 musical called Metal Macbeth.[4]
On October 26, 2018, Kamio posted an illustration of Matsushita on her Instagram.[5] Matsushita thanked her by reposting it on his Instagram[6] and Twitter.[7] He also made it his profile picture on Instagram for a time.
In March 2019, Matsushita stopped by Kamio's place of work. He drew a picture of Tsukasa during his visit.[8]
References
External links