The title of this article is conjectural. Although it is based on canonical information, the actual name is conjecture and may be supplanted at any time by additional information.
Matsuoka (松岡, Matsuoka) was the older sister of Yuki Matsuoka. She often went out clubbing dressed in flashy clothing and heavy make-up. Her favorite club was Joliana. On one occasion, she helped her sister and Tsukushi Makino dress for a party. She took them out dancing on another occasion. Later on, Matsuoka started wearing less make-up.
Biography
Early life
Matsuoka was the first daughter born to her mother and father. She had a younger sister named Yuki.[1]
Young adulthood
One night, she came home and greeted Tsukushi Makino, Yuki's friend whom she had not seen for a while. Yuki then explained that they needed outfits for a party. She dressed them in the style she wore to her favorite club, Joliana. Yuki's sister also advised them to do a "octopus dance", which she called "sexy."[2] Another night, she invited Yuki and Tsukushi to Joliana when she noticed the latter was down. There she wanted to dance on the platform and decided to take on Sakurako Sanjo.[3] She quickly knocked Yuki's sister off the platform. Yuki then rushed to her sister's side.[4] Several months later, it was announced that her father would transferred, instead of the anticipated promotion. The family was alarmed.[5] However, the transfer was quickly reversed and the family presumably went back to normal.[6]
By the following spring, Matsuoka started wearing less make-up. Tsukushi visited the Matsuokas around the same time for dinner and to spend the night.[7][1] Later, a handsome man came to see Yuki. Her sister quickly alerted her and worried about Yuki going out without make-up.[8]
Physical appearance
She had extremely long, curly hair that went halfway down her back. Yuki's sister wore a lot of makeup, jewelry, and garish clothing when she went out clubbing. Once everything was removed, she had a surprisingly plain face that even Tsukushi did not recognize at first. She eventually started wearing less make-up.
Personality and traits
Despite being a bit silly, she was a helpful and caring older sister to Yuki. She enjoyed having fun foremost and did so by going out clubbing. Yuki's sister was familiar with clubs, particularly Joliana. She liked to show off her dancing skills and frequently did so on Joliana's platform.
Behind the scenes
Character notes
Portrayals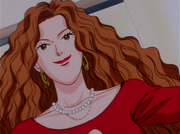 Appearances
Boys Over Flowers
Volume 1
Volume 2
Volume 4
Volume 6
Volume 7
Volume 8
Volume 9
Volume 10
Volume 11
Volume 14
Volume 15
Volume 16
Volume 17
Volume 18
Volume 19
Volume 20
Volume 21
Volume 22
Volume 23
Volume 24
Volume 26
Volume 27
Volume 28
Volume 29
Volume 30
Volume 31
Volume 32
Volume 33
Volume 35
Volume 36
Jewelry Box
Other
Boys Over Flowers (anime)
1
2
3
4
5
6
7
8
9
(Debut)
10
11
12
13
14
15
16
17
18
19
20
21
22
23
24
25
26
27
28
29
30
31
32
33
34
35
36
37
38
39
40
41
42
43
44
45
46
47
48
49
50
51
References
See also