The title of this article is conjectural. Although it is based on canonical information, the actual name is conjecture and may be supplanted at any time by additional information.
Matsuoka (松岡, Matsuoka) was the mother of two daughters, including Yuki Matsuoka. She was married to her husband. Being a housewife, she had a relatively normal life taking care of her family and the house.
Biography
Early life
At some point, she married her husband. Together they had two daughters, including their younger one named Yuki. Matsuoka was a housewife while her husband worked a normal company job.[1]
Adult life
Matsuoka's husband was in line for a promotion to section chief, when he was suddenly issued a transfer instead. She was upset because it meant the family would have to move, despite having not paid off the mortgage on their house. Matsuoka called the office of Yuki's school to have her come home early. Once Yuki arrived, she explained everything to her.[1] The transfer was later called off, returning the Matsuokas' life back to normal.[2] Several days later, Tsukushi Makino had dinner with the family and spent the night. After Yuki and Tsukushi left in the morning, Matsuoka was visited by a boy who asked about Tsukushi. He also told her "I just want to say that I don't plan to cause your family any trouble." Finding him "strange," she quickly rushed inside her home and locked the door.[3]
Sometime later, Matsuoka became concerned over Yuki sneaking out at night and discovered a list of buildings in her room. She confronted her daughter one morning, but she refused to reveal what she was up to. Yuki asked her mother to be understanding, telling her that "It'll be over soon."[4]
Physical appearance
Matsuoka had a similar appearance to her youngest daughter. Her face shape, nose, and eyes were nearly identical to Yuki's. She had short, curly hair. Matsuoka was often seen wearing an apron.
Personality and traits
An average housewife with a cheerful disposition, she was close to her husband and two children. She enjoyed cooking for her family and others. Matsuoka was also a thoughtful hostess, making sure to ask Tsukushi if she wanted another serving. At times, she could become emotional such as when her husband was nearly transferred.
Behind the scenes
Character notes
Portrayals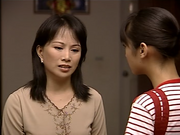 Fang Hong Ren (方虹人) portrays Xiao You's (Yuki) mother in episode thirteen of Meteor Garden (2001). Despite being in line for a promotion, her husband is transferred to a different factory, which she calls a "dismissal in disguise." Unbeknownst to her, Feng (Kaede) had arranged this in order to hurt Shan Cai (Tsukushi), Xiao You's best friend. She and her family later emigrate to Canada. She only has one daughter in the drama.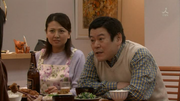 Rie Hiki (比企 理恵) plays Yuki's mother in the ninth episode of Hana Yori Dango Returns (2007). She and her husband have known Tsukushi since was a child. They allow her to stay in their home for a time. The company that her husband works for is indirectly affiliated with Domyoji Group, causing them to worry financially about their situation. She also has only one daughter in this drama.
Appearances
Boys Over Flowers
Volume 1
Volume 2
Volume 3
Volume 4
Volume 5
Volume 6
Volume 7
Volume 8
Volume 9
Volume 10
Volume 11
Volume 12
Volume 13
Volume 14
Volume 15
Volume 16
Volume 17
Volume 18
Volume 19
Volume 20
Volume 22
Volume 23
Volume 24
Volume 26
Volume 27
Volume 29
Volume 30
Volume 31
Volume 32
Volume 33
Volume 34
Volume 35
Volume 36
Jewelry Box
Other
References
See also