The title of this article is conjectural. Although it is based on canonical information, the actual name is conjecture and may be supplanted at any time by additional information.
Matsuoka (松岡, Matsuoka) was the father of two daughters, including Yuki Matsuoka. He worked for AC Electronics and was successful in his position there. Matsuoka was once nearly transferred due to Kaede Domyoji's manipulations, though he was likely unaware of her involvement. He enjoyed a normal life with his family.
Biography
Early life
He married his wife and had two daughters, including Yuki. Matsuoka worked at AC Electronics and made his way up the ladder there.[2]
Adult life
Matsuoka was being considered for a promotion to section chief, when he was suddenly informed that he would be transferred instead. The position was at a subcontract company, which his wife considered "as good as fired."[2] The transfer was later called off, allowing the Matsuokas' to return to normal.[3] Some time later, Yuki's friend Tsukushi Makino visited their home to spend the night. During dinner, Matsuoka got another beer out of the fridge. Yuki protested since he had been told "[his] liver was [not] in very good shape." He laughed it off, before promising not to drink another that night.[4]
Personality and traits
He was a good-natured man who enjoyed spending time with family. After a long day of work, he occasionally drank beer. His wife and later Yuki would remind him of his health, leading him to amiably agree to stop at two beers.
Behind the scenes
Character notes
Portrayals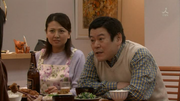 Appearances
Boys Over Flowers
Volume 1
Volume 2
Volume 3
Volume 4
Volume 5
Volume 6
Volume 7
Volume 8
Volume 9
Volume 10
Volume 11
Volume 12
Volume 13
Volume 14
Volume 15
Volume 16
Volume 17
Volume 18
Volume 19
Volume 20
Volume 23
Volume 24
Volume 26
Volume 27
Volume 28
Volume 29
Volume 30
Volume 31
Volume 32
Volume 33
Volume 34
Volume 35
Volume 36
Jewelry Box
Other
References
See also