Zhou Yu Min (Chinese: 周渝民; pinyin: Zhōu Yùmín, born June 9, 1981 in Luodong, Taiwan), also known by his English name Vic Chou, is an actor and musician. He was a member of the idol group, F4. Chou is best known for his roles in Meteor Garden, Mars, Black & White, and Home.
Chou played Hua Ze Lei in Meteor Garden, Meteor Rain, and Meteor Garden II.
Biography
Early life
Chou was born on June 9, 1981 in Luodong located in Yilan County, Taiwan. His birth name (周育民) is pronounced the same as his stage name.[1] He has one elder brother. Chou's parents divorced when he was around six-years-old.[2]
Career
Chou was studying to be a mechanical engineer when he accompanied a friend to the Meteor Garden auditions. He was chosen to play Hua Ze Lei and rose to prominence overnight.[3] He reprised his role in the sequels, Meteor Rain (2001) and Meteor Garden II (2002). After the success of Meteor Garden, Chou, Jerry Yan, Ken Chu, and Vanness Wu formed the boyband, F4. Following the release of their debut album Meteor Rain, Chou released a solo album, titled Make a Wish in 2002. Chou had his first lead role as the title character in Poor Prince (2001). In 2003, he and Ken Chu costarred with Vivian Hsu and Beatrice Hsu in Love Storm. Chou starred opposite Barbie Hsu in 2004's Mars, which was produced by Meteor Garden producer Angie Chai.
He collaborated with Chai in Silence (2006), Sweet Relationship (2007), and Wish to See You Again (2008). In 2007, he released his third solo album, I'm Not F4. He starred in two films, Linger with Li Bingbing and Tea Fight with Erika Toda, in 2008. In 2009, Chou starred in the award-winning series Black & White, and the historical drama Memoirs of Madam Jin. He reunited with Vivian Hsu for the film, Sleepless Fashion, in 2011. Chou returned to television in 2012 for the war drama, Home. He won a Golden Bell Award for his performance in Home. Also in 2012, he starred opposite Ella Chen in the film, New Perfect Two.
In 2013, Chou appeared in three films, Saving General Yang, Day of Redemption, and A Moment of Love. The following year, he was in the romantic-comedy film, Don't Go Breaking My Heart 2 with Louis Koo and Miriam Yeung. Chou starred with Ariel Lin in 2015's Go Lala Go 2, a sequel to the 2011 film. In 2016, he collaborated with Louis Koo again in action film, S Storm. Chou appeared in the Chinese-Hong Kong romantic-comedy film, Two Wrongs Make a Right, in 2017. He starred in Beauties in the Closet and The Flame's Daughter the following year.
Personal life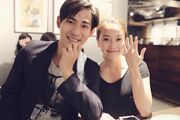 Chou became close friends with the late actress Beatrice Hsu during the filming of Love Storm (2003).[4] They began dating after Hsu broke up with her then boyfriend Lee Wei.[5] Chou and Hsu broke up around 2005. In mid-2005, he started dating Meteor Garden co-star Barbie Hsu who played his love interest in Mars. They broke up in January 2008.[6][7] Chou began dating actress Reen Yu in 2011, after meeting on the set of Black & White. The couple registered their marriage on November 10, 2015.[8] On August 2, 2016, Yu gave birth to their first child, a daughter.[9]
Filmography
Television dramas
Films
Notes
Due to his busy schedule, Chou does not have his own episode in the spin-off Meteor Rain (2001).
In October 2020, F4 had an "unconventional" reunion on Jiangsu TV. Chou's, Jerry Yan's, and Ken Chu's performances were prerecorded and projected onto the stage likely due to COVID-19 restrictions. Vanness Wu was the only one who was there live.[10]
Chou has been nicknamed Zai Zai (仔仔) by his fans.
He starred in Poor Prince (2001) with Ken Chu and Edward Ou.
Chu, Jerry Yan, and Vanness Wu all starred in Come to My Place (2002) with Chou.
He and Chu starred in Love Storm (2003) with Beatrice Hsu, whom Chou later dated.
In 2004, he and Barbie Hsu played love interests in Mars, in which Megan Lai also appeared. Chou and Hsu began dating the following year.
He also appeared in Silence (2006) and Sweet Relationship (2007) with Lai.
Chou and Chu starred in Wish to See You Again (2008). Wu had a supporting role in the drama and Lai made a cameo appearance.
References
External links