Wu Jian Hao (Chinese: 吳建豪; pinyin: Wú Jiànháo, born August 7, 1978 in Santa Monica, United States), also known as Vanness Wu, is a Taiwanese-American musician, actor, and dancer. He is a former member of the idol group, F4. As an actor, Wu is best known for his roles in Meteor Garden, Autumn's Concerto, and The Princess Weiyoung.
Wu debuted in Meteor Garden as F4 member, Mei Zuo. He reprised his role in Meteor Rain and Meteor Garden II.
Biography
Early life
On August 7, 1978 in Santa Monica, California,[1][2] Wu was born to Taiwanese parents,[3] George Wu[4] and Mimi Yang.[5] He has two older sisters, named Stacy and Wendy. His parents divorced when Wu was young. His mother subsequently got remarried and had two more children, Geoffrey and Melody Yao.[6][7]
Wu graduated from Corona del Mar High School.[7] He grew up dancing with the L.A. Boyz and became particularly close friends with Jeff Huang. At eighteen, Wu appeared in the music video for Jason Nevins' version of Run-DMC track "It's Like That."[6]
Career
Early success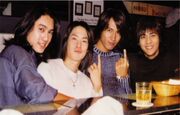 After dropping out of college, Wu decided to move to Taiwan at Huang's urging. He later described the first few months on the island as "hellish" since he could not read or write Chinese. Wu was spotted by producer Angie Chai while participating in a beauty pageant on the variety show, Super Sunday. He was chosen by Chai to play Mei Zuo in Meteor Garden (2001).[3] Wu and his costars Jerry Yan, Vic Chou, and Ken Chu shot to superstardom virtually overnight. They formed the Mandopop group F4, named after the clique that they played on the show.[8] Their first album, Meteor Rain, was released in 2001.[9] It sold over 200,000 copies within a couple days.[10] The F4 reprised their Meteor Garden roles in Meteor Rain (2001)[11] and Meteor Garden II (2002).[12] Wu also had a starring role in Peach Girl in 2001.[13]
In 2002, F4 appeared together in Come to My Place with Wu playing JJ.[14] Wu released his first solo album, Body Will Sing, that August.[15] Later the same year, F4 released their second album, Fantasy 4ever, which included their version of "Can't Help Falling in Love" from the Lilo & Stitch soundtrack.[16][17] The next year, Wu was featured on Beyoncé's "Crazy in Love" for the Asian edition of her Dangerously in Love album.[18] He made his film debut in Daniel Lee's Hong Kong action flick, Star Runner (2003), opposite Korean actress Kim Hyun-joo.[19] Wu collaborated with Lee again in Dragon Squad (2005)[20] and Three Kingdoms: Resurrection of the Dragon (2008).[21] In 2004, he appeared in the first story of Say Yes Enterprise as the love interest of Hebe Tien's character.[22]
Transition to solo work
In 2006, Wu formed a music duo with South Korean singer Kangta.[23] They recorded one album, Scandal, in Mandarin and Korean.[24] In 2007, F4 was forced by Japanese publisher Shueisha to cease using their name. Producer Chai officially changed the band's name to JVKV.[25] However, their third album, Waiting for You, still bore their old name.[26] They went on to perform seven concerts in Japan before going on hiatus.[27] The same year, Wu released his second solo album, V.DUBB.[28] In 2008, he reunited with bandmates Chou and Chu in Wish to See You Again.[29] Wu released a third studio album, In Between, that year.[30] The following year, Wu appeared in Kung Fu Chefs, a Hong Kong film starring Sammo Hung,[31] and portrayed a lawyer who falls for Ady An's character in Autumn's Concerto.[32]
Wu ventured into producing with 2010's Year of the Rain, in which he also had a guest role.[33] That year, he released his first Japanese album Reflections,[34] which he followed with V[35] and C'est La V (both 2011).[36] Wu starred in the film The Road Less Traveled[37] and the television drama Material Queen with Lynn Hung that year. Wu also performed the opening theme to Material Queen.[38] The next year, he starred opposite Joanne Tseng in Ti Amo Chocolate[39] and played a baseball player in Baseball Love.[40] In 2013, Wu reunited with his F4 bandmates on Jiangsu TV's Spring Festival. It was the first time they had performed together in five years.[27] Later that year, Wu released his seventh album Different Man.[41] In 2014, he appeared alongside Wallace Chung and Ivy Chen in the romantic-drama Girls.[42]
Recent work
Wu served as a judge for the first season of Asia's Got Talent in 2015.[43] The same year, he joined director Daniel Lee again in Dragon Blade starring Jackie Chan[44] and appeared in the ensemble film Monk Comes Down the Mountain.[45] In 2016, he appeared with his sister in the third season of The Amazing Race China.[46] That year, he starred as a ruthless prince in The Princess Weiyoung with Tiffany Tang and Luo Jin.[47] His eighth studio album #MWHYB was released in 2016.[48] Wu starred opposite Cecilia Cheung in her comeback drama, Love Won't Wait, in 2018.[49] In late 2019, he starred alongside Donnie Yen in Ip Man 4: The Finale.[50] The following year, A Choo was released after being delayed from several years.[51] Wu also starred in the web film, Electromagnetic King Pili Family, that year.[52]
In 2022, Wu released his first English-language single, "Chill."[53]
Personal life
Wu was in a serious relationship with actress and singer Vivian Hsu for three years.[54][55] He dated Singaporean heiress and entrepreneur Arissa Cheo for seven years, before marrying her on November 15, 2013 in Los Angeles, California.[56][57] In January 2015, Wu and Cheo had a public fight on Instagram,[58] though by June, the couple appeared to have reconciled.[59] In June 2018, Cheo filed for divorce after living separately from Wu for three years.[60][61] Their divorce was finalized in February 2019.[62]
Filmography
Television dramas
Films
Notes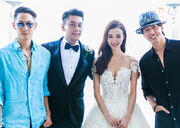 Due to his background, Wu often spoke English phrases in Meteor Garden. Similarly, Tsuyoshi Abe, his Japanese drama counterpart, had his heritage featured by speaking Mandarin on occasion.
Wu's mother played his mother in Meteor Garden II (2002). The producers did not tell him beforehand, surprising him at rehearsal.[63]
His "silky smooth hair" began trending when Meteor Garden was re-aired in April 2018. Wu was asked on social media whether it would return. He replied that he did not want to wake up early to fix it.[65]
After not performing together since 2013, F4 had an "unconventional" reunion in October 2020 on Jiangsu TV. Wu was the only one whom performed live, while the others were pre-recorded and projected onto the stage. The arrangement was likely due to COVID-19 restrictions.[66]
In 2022, Wu appeared on the variety show Welcome Back to Sound with Yan. The pair talked about problems with the band that caused them to break up.[67]
References
External links