Umi Nakajima (中島 海, Nakajima Umi) was a high school student at M Academy. She befriended Tsukushi Makino and Tsukasa Domyoji, while he and Umi were being treated at the same hospital. Umi promised to help Tsukushi with Tsukasa's memory loss. She ended up developing romantic feelings towards him, but was rejected by him.
Biography
High school
Meeting Tsukasa
Physical appearances
Umi had light brown, almost blonde hair with golden brown eyes. Her hair was long, reaching way past her shoulders, and her bangs were short.
Personality and traits
Skills[1]
Financial strength
3/5
Looks
4/5
Intelligence
3/5
Queen attitude
3/5
Kindness
2/5
Power
3/5
Etymology
Umi (海, Umi), a female given name, means "sea" or "ocean."[3] Her surname, 中島, 中島 translates to "island in a pond or river."[4] It is a relatively common surname and is the name of several locations in Japan.[5] Separately, the kanji 中, 中 means "inside" or "middle,"[6] while 島, 島 means "island."[7]
Behind the scenes
Character notes
Portrayals
See also: Category:Umi Nakajima portrayals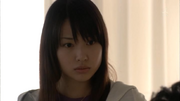 Erika Toda portrays Umi in two episodes of Hana Yori Dango Returns (2007).[11] Like in the manga, she meets Tsukushi and Tsukasa at the hospital she is staying at. She begins spending a lot of time with Tsukasa. Eventually, Umi confesses her feelings to Tsukasa, and tags along on the trip to the mountains. While there, Tsukasa realizes that she is not the one for him. Devastated, Umi tells Tsukushi a lie that Yuki is out in the snowstorm. She immediately regrets her actions and is thankful for their safe return. To say sorry, Umi later helps push Tsukushi's family's car.
She is renamed Jang Yu-mi and played by Kim Min-ji in the Korean drama, Boys Over Flowers (2009).[12]
Appearances
Boys Over Flowers
Volume 1
Volume 2
Volume 3
Volume 4
Volume 5
Volume 6
Volume 7
Volume 8
Volume 9
Volume 10
Volume 11
Volume 12
Volume 13
Volume 14
Volume 15
Volume 16
Volume 17
Volume 18
Volume 19
Volume 20
Volume 21
Volume 22
Volume 23
Volume 24
Volume 25
Volume 26
Volume 27
Volume 28
Volume 29
Volume 30
Volume 31
Volume 34
Volume 35
Volume 36
Jewelry Box
Other
References
See also