The title of this article is conjectural. Although it is based on canonical information, the actual name is conjecture and may be supplanted at any time by additional information.
"I'll wait for you to turn to me, whether it takes 10 or 20 years. Then if the whole world becomes your foe, I will be your only ally."
—Tsubaki's husband promises to wait for her
The husband of Tsubaki Domyoji was the heir to a hotel empire. He lived with his wife in Beverly Hills where he presumably worked, though he also went abroad for business trips. Their marriage was originally arranged by their parents for financial benefits, but they ended up loving each other nonetheless.
Biography
Married life
He was from a rich family who owned a large hotel empire.[1] Kaede Domyoji wanted to expand her own hotel business and arranged a marriage between him and her daughter Tsubaki. When she refused to "open [her] heart" to him, he told her that he would wait for her whether it took ten or twenty years. Tsubaki grew to love him and the couple was very happy together.[2] They lived in Los Angeles, California, though he often had to travel for business.[3]
Personality and traits
Tsubaki described her husband as "gentle and kind,"[2] as well as being an "easygoing person who would never hurt [her]."[4] When their marriage was first arranged, Tsubaki was completely against it though it proceeded anyway. Her future husband promised to wait for her to love him back. His words, particularly him saying he would "be [her] only ally," eventually resulted in opening herself up to him.
Behind the scenes
Character notes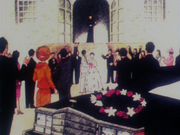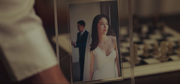 Appearances
Boys Over Flowers
Volume 1
Volume 3
Volume 4
Volume 5
Volume 6
Volume 8
Volume 9
Volume 11
Volume 12
Volume 13
Volume 14
Volume 15
Volume 17
Volume 19
Volume 20
Volume 21
Volume 22
Volume 23
Volume 24
Volume 26
Volume 27
Volume 28
Volume 29
Volume 30
Volume 31
Volume 32
Volume 33
Volume 34
Volume 35
Volume 36
Jewelry Box
Other
Boys Over Flowers (anime)
1
2
3
4
5
6
7
8
9
(First mentioned)
10
11
12
13
14
15
16
17
18
19
20
21
22
23
24
25
26
27
(Mentioned)
(Flashback only)
28
29
30
31
32
33
34
35
36
37
38
39
40
41
42
43
44
45
46
47
48
49
50
51
References
See also