Tsukushi: "You lied to me! You said they wouldn't see print! What am I doing on the cover?!"
Junpei: "I don't know... I guess the editor liked the shot! You look cute, don't you think?"
— Tsukushi is upset about being the cover
Treasures (トレジャーズ, Torejāzu) was a magazine sold in Japan. It was popular among teenagers, including students from Eitoku Academy. Junpei Oribe modeled for the magazine and once appeared on the cover with Tsukushi Makino.
History
Junpei Oribe, under the name "Jun," was hired to model for the February issue of Treasures. He brought Tsukushi Makino to the shoot. After introducing her to the photographer, Junpei convinced him to take some photos of him and Tsukushi together. Tsukushi was quickly dressed in men's wear and had her hair and makeup done. She was not thrilled, so Junpei assured her that the shots would not make it to the magazine. The editor, however, ending up choosing one of the pictures for the cover. Tsukushi was annoyed upon seeing Treasures and nearly ended her friendship with Junpei. He then cried, leading her to shout "I was just mad!"[1] Tsukasa Domyoji approached the two while holding the magazine. He was angry about her appearing on the cover with Junpei. A fight then occurred between him and Junpei.[2]
Behind the scenes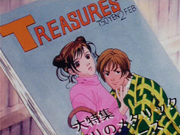 The magazine appears in the episode, "Shock! Horror! Another Red Card!," of the Boys Over Flowers anime (1997). It has a near exact appearance to the manga version, except for the bottom text which has been changed. Like in the manga, Tsukushi and Junpei are on the cover. She becomes angry when she sees it, nearly ending their friendship right then and there. It also becomes a point of contention among Tsukasa, Yuriko, Erika, and Minako.
A version of the magazine appears in episode eight of Meteor Garden (2001), but it is not named Treasures. The photo of Dong Shan Cai (Tsukushi) and Xiao Shun (Junpei) only appears in an article, not the cover.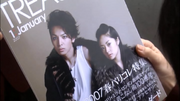 It appears in the first episode of Hana Yori Dango Returns (2007). Junpei promises that the photos will not appear in the magazine. When Tsukushi sees them on the cover, she tells him that they might not be able to be friends. Treasures is also a popular internationally as Tsukasa sees it while living in New York. Sojiro and Akira mistakenly think Tsukushi took the photo to get Tsukasa's attention.
Appearances
Boys Over Flowers
Volume 1
Volume 2
Volume 3
Volume 4
Volume 5
Volume 6
Volume 7
Volume 8
Volume 9
Volume 10
Volume 11
Volume 12
Volume 13
Volume 16
Volume 17
Volume 18
Volume 19
Volume 20
Volume 21
Volume 22
Volume 23
Volume 24
Volume 25
Volume 26
Volume 27
Volume 28
Volume 29
Volume 30
Volume 31
Volume 32
Volume 33
Volume 34
Volume 35
Volume 36
Jewelry Box
Other
Boys Over Flowers (anime)
1
2
3
4
5
6
7
8
9
10
11
12
13
14
15
16
17
18
19
20
21
22
23
24
25
26
27
28
29
30
31
32
33
34
35
36
(Debut)
37
38
39
40
41
42
43
44
45
46
47
48
49
50
51
References