The World Created by Mangaka Yoko Kamio (漫画家 神尾葉子の創る世界), (漫画家 神尾葉子の創る世界) was a lecture given by Yoko Kamio on November 7, 2021. It was held at Musashino Place in Musashino, Tokyo. Currently, there are plans to release the lecture as a recording.
Background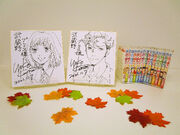 On October 2, 2021, Musashino Place announced that Yoko Kamio was holding a lecture there on November 7.[1] Kamio also revealed that it was going to be her first lecture.[2] Admission was free, but limited to fifty people. Additionally, one hundred people were admitted to listen online. The venue gathered questions and messages to Kamio from the participants prior to the lecture.[3]
On the day of the lecture, Kamio presented the venue with two drawings and all fifteen volumes of Boys Over Flowers Season 2. Musashino has put the drawings and volumes on display. There are also plans to release the lecture as a recording.[4][5]
Pamphlet
References
See also
External links