The title of this article is conjectural. Although it is based on canonical information, the actual name is conjecture and may be supplanted at any time by additional information.
The husband (旦那, danna) of Tama whom he married at a young age. He worked at City Hall before his untimely death during wartime.
Biography
He married Tama, whom he was deeply in love with. Often, before returning home from work at City Hall, he would pick Tama some wildflowers. He died during the last war, when Tama was nineteen.[1]
Physical appearance
Tama described her husband as "handsome" while showing his photograph to Tsukushi Makino. He had short, light-colored hair along with down-turned eyes and an overall kind face.
Behind the scenes
Character notes
Portrayals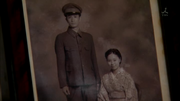 Appearances
Boys Over Flowers
Volume 1
Volume 2
Volume 3
Volume 4
Volume 5
Volume 6
Volume 7
Volume 8
Volume 9
Volume 10
Volume 11
Volume 12
Volume 13
Volume 14
Volume 15
Volume 16
Volume 17
Volume 18
Volume 19
Volume 20
Volume 22
Volume 23
Volume 24
Volume 25
Volume 26
Volume 27
Volume 28
Volume 29
Volume 30
Volume 31
Volume 32
Volume 33
Volume 34
Volume 35
Volume 36
Jewelry Box
Other
References
See also