Takumi Nishio (西尾 拓美, Nishio Takumi, born June 17, 1967 in Tokyo, Japan) is a former actor, singer, and voice actor. Nishio now works as a chef. He married his wife Tomomi Nishimura in 1997.
Nishio voiced Tsukasa Domyoji in the Hana Yori Dango drama CDs. He is the first person to portray Tsukasa.
Biography
Career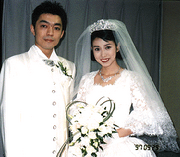 Nishio began working as a voice actor under the name, Takumi Nishio (西尾 巧, Takumi Nishio), which is pronounced the same way, in the late 1980s. In 1988, he joined a male idol group name CHA-CHA, which was disbanded in 1994. Nishio retired from being a singer and actor in 1996. After retirement, he began working as a chef and restaurant manager in Shibuya, Tokyo.
Personal life
On September 29, 1997, he married actress and singer Tomomi Nishimura at a theme park. They held another ceremony in Las Vegas the following month.[1] She gave birth to their daughter, Sasa Nishio (西尾 咲々, Sasa Nishio), on August 2, 2003.[2]
Selected filmography
Voice
Notes
Yoko Kamio met him and Takuya Kimura during the recording of the first drama CD. She told them, "You two fit the images [of my characters] perfectly." Kimura joked with Nishio that she meant he was "as dumb as Tsukasa".[3]
References
External links