"In the way of tea, we say "one encounter, one chance"! It means I mustn't let this moment pass because it will never come again."
"Story of an Encounter" (いちごものがたり, Ichigo Monogatari) is a special chapter of the Boys Over Flowers manga by Yoko Kamio. It was first published on September 5, 2000 in Margaret No.19 after chapter one hundred and eighty-five.[1] The story focuses on Sojiro Nishikado.
Sojiro tells the story about how he misses his "one encounter, one chance" meeting with his childhood friend, Sara Hinata.
Plot
| | |
| --- | --- |
| | This section of this article is empty and needs to be expanded. You can help Boys Over Flowers Wiki by contributing. |
Character appearances
Development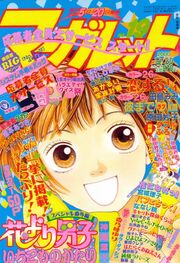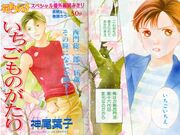 "Story of an Encounter" was first published in the early September 2000 issue of Margaret. It was the first one-shot Yoko Kamio had written in ten years. She was still working on Boys Over Flowers at the time and had the story "woven into the series."[1] Kamio was particularly glad to create a story about Sojiro's past. She explained that she "had no time to do it" before since the main story took up so much of her time.[2] "Story of an Encounter" ended up being Kamio's only one-shot produced during the series. Others, such as "Night of the Crescent Moon," were made after Boys Over Flowers ended.
Notes
The opening image was used for the cover of volume twenty-eight.
The phrase, "ichi-go ichi-e" (一期一会 , lit. "one time, one meeting") is referenced several times throughout the story. It later becomes somewhat of a catchphrase for Sojiro in the 2005 drama, Hana Yori Dango.
Sojiro takes a girl through the tea house's nijiriguchi (lit. "crawling-in entrance"), which is a small door, leading directly to the tea room.
Akira is wearing a shirt with the silhouette of British punk artist, Sid Vicious.
This chapter is the only one in which Tsukushi Makino does not appear.
The story is titled "Un momento irripetibile" (lit. "An unrepeatable moment") in the Italian edition.[3]
On November 12, 2017, the story was published on Shonen Jump+ in place of a new chapter of Boys Over Flowers Season 2.[4]
Adaptations
References
See also
External links