"In the way of tea, we say "one encounter, one chance"! It means I mustn't let this moment pass because it will never come again."
"Story of an Encounter" (いちごものがたり, Ichigo Monogatari) is a special chapter of the Boys Over Flowers manga by Yoko Kamio. It was first published on September 5, 2000 in Margaret No.19 after chapter one hundred and eighty-five.[1] The story focuses on Sojiro Nishikado.
In his first year of high school, Sojiro is close to his childhood friend, Sara Hinata. She is there to support him as he tries to cope with his dysfunctional family. Sojiro, however, ends up hurting her and misses his "one encounter, one chance."
Plot
In elementary school, a young Sojiro easily answers "Ichi-go ichi-e" when his teacher asks the reading of the kanji characters on the board. Teenage Sojiro reveals how the question was "natural" for him since he is the next headmaster of the "Nishikado style of tea ceremony." He uses the same saying, which means "one encounter, one chance," as a pick-up line on a girl who agrees to go to his house. As they are kissing, they are interrupted by an oblivious Sara Hinata and the girl promptly leaves.
Sojiro quickly gets over his annoyance at Sara. She becomes excited about a new snack she found. He is reminded of how the met as children when he was crying and she offered him some chocolate. After he makes tea, Sara reminisces about another incident from the childhood, when they both hid in the storeroom and Sojiro's parents called the police because they could not find him. Sojiro leaves after receiving a call from a girl. After saying goodbye to Sara, she stares after him with a sad expression.
On another day, Sojiro sleeps with a different girl at a hotel. She really likes him, but he has no interest in a "complicated relationship." Back home, Sojiro's mother asks him to stand in for his father, who is with his mistress. Sojiro then mentions his older brother whom left the family a year prior. Sara later comes to his room and cheear him up. Sojiro flicks her forehead and then catches her head before she falls. However, when their faces get close, Sara closes her eyes which startles Sojiro. The situation is quickly laughed off.
Sojiro later recalls that day in the storeroom, when he stared at Sara's face while she was sleeping. Akira Mimasaka interrupts his thoughts. He then reluctantly joins Akira in picking up some girls. Sojiro knows that his behavior is "stupid," but feels "That's all there was for me to do." Meanwhile, Sara goes out with friends. They go up to the rooftop of a building while waiting for the train. In the morning, Sara leaves a voicemail for Sojiro to meet her at the same building at five in the morning, which he deletes.
After staring at the clock all night, Sojiro goes home, where he finds Sara waiting outside. He tries acting casually. Sara smiles at first, but then starts crying. She softly says "Goodbye" before walking away. Sojiro stares after her, thinking that "Sara will come again." She later sends him a letter saying "My 'one chance, one encounter' was waiting for you that morning on that rooftop." Sojiro sees Sara a year later with a boy. He cannot help but wonder what would have happened if he had gone to her that morning.
Character appearances
Development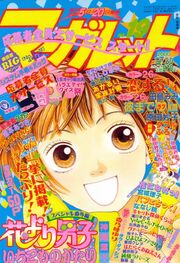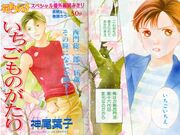 "Story of an Encounter" was first published in the early September 2000 issue of Margaret. It was the first one-shot Yoko Kamio had written in ten years. She was still working on Boys Over Flowers at the time and had the story "woven into the series."[1] Kamio was particularly glad to create a story about Sojiro's past. She explained that she "had no time to do it" before since the main story took up so much of her time.[2]
The short story ended up being Kamio's only one-shot produced during the series. Others, such as "Night of the Crescent Moon," were made after Boys Over Flowers ended.
Notes
The opening image was used for the cover of volume twenty-eight.
The phrase, "ichi-go ichi-e" (一期一会 , lit. "one time, one meeting") is referenced several times throughout the story. It later becomes somewhat of a catchphrase for Sojiro in Hana Yori Dango (2005).
Sojiro takes a girl through the tea house's nijiriguchi (lit. "crawling-in entrance"), which is a small door, leading directly to the tea room.
Akira is wearing a shirt with the silhouette of British punk artist, Sid Vicious.
This chapter is the only one in which Tsukushi Makino does not appear.
The story is titled "Un momento irripetibile" (lit. "An unrepeatable moment") in the Italian edition.[3]
On November 12, 2017, the story was published on Shonen Jump+ in place of a new chapter of Boys Over Flowers Season 2.[4]
Adaptations
References
See also
External links