"I challenge you. There's a Teen of Japan contest at Christmas. I'm representing the junior class at Eirin. If you win, we'll recognize you as an equal."
—Sonoko to Tsukushi
Sonoko Maekawa (前川 園子, Maekawa Sonoko) was a student at Eirin Academy. During her second year of high school, she participated in the Teen of Japan contest with Ayano Kurimaki and Tsukushi Makino. Sonoko was disqualified during the second round. She most likely had a crush on her classmate Seinosuke Amakusa.
Biography
High school
Sonoko attended Eirin Academy. Like a lot of girls there, she had her eye on Seinosuke Amakusa. However, he was not interested in any of the girls at Eirin.[1]
Teen of Japan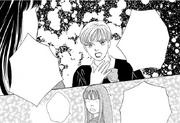 "You just came back from the U.S. so that you could get your claws into Seinosuke, didn't you? You say you're engaged, but that's only what your parents decided! Seinosuke's not paying any attention to you at all! Sorry to say, it seems Seinosuke prefers this bitch!"
—Sonoko yells at Ayano
When Seinosuke announced he intended to marry Tsukushi Makino, Sonoko and her friends went to confront her. Sonoko challenged her to compete against her in the Teen of Japan contest. Seinosuke then showed up and forced them to leave Tsukushi alone.[1] Sonoko did not see Tsukushi again until the day of Teen of Japan.[2] In the first round, Sonoko carefully selected an outfit which judge Jody Grand described as being elegant with an "ethnic flair." She passed on to the next round.[3] In the dressing room, Sonoko and her friends badmouthed Tsukushi. Ayano Kurimaki criticized them for not focusing on the competition. Sonoko became upset and yelled at Ayano until her friends lead her away. In the second round, a nervous Sonoko was disqualified for breaking a tea cup.[4]
Physical appearance
Like her fellow Teen of Japan contestants, Sonoko was a pretty girl. Her hair was a pixie cut, making it the shortest of all the contestants. She likely wore name-brand clothing regularly as she was shown to have a familiarity with it during the contest. Sonoko was also seen wearing her school uniform.
Personality and traits
It was hinted on several occasions that Sonoko had a crush on Seinosuke. However, he never paid any attention to her, possibly making her feel insecure. Sonoko was jealous of Seinosuke's object of affection, Tsukushi. Due to Tsukushi's background, Sonoko viewed her as inferior to herself. She also displayed some animosity towards Ayano, whom was Seinosuke's informal fiancée.
Behind the scenes
Character notes
Portrayals
Kurara Kotomi portrays Sonoko in the Takarazuka musical, Hana Yori Dango (2019). Kotomi also plays another minor role, Hiroko.[5] Sonoko's role is significantly lessened as she has no lines.
Appearances
Boys Over Flowers
Volume 1
Volume 2
Volume 3
Volume 4
Volume 5
Volume 6
Volume 7
Volume 8
Volume 9
Volume 12
Volume 13
Volume 14
Volume 15
Volume 16
Volume 17
Volume 18
Volume 19
Volume 20
Volume 21
Volume 22
Volume 23
Volume 24
Volume 25
Volume 26
Volume 27
Volume 28
Volume 29
Volume 30
Volume 31
Volume 32
Volume 33
Volume 34
Volume 35
Volume 36
Jewelry Box
Other
References
See also