Manga

Taiwan
The title of this article is conjectural. Although it is based on canonical information, the actual name is conjecture and may be supplanted at any time by additional information.
"She's very beautiful, but she seems a little cold. I wonder why wealthy people seem so alike."
—Tsukushi's description of her
Nishikado (西門, Nishikado) was the wife of the former Grand Master of the Nishikado tea ceremony school. They had three sons together, including Shoichiro and Sojiro. She and her husband had a strained relationship, likely because of his infidelity. Their first son, Shoichiro, left the family which resulted in Sojiro becoming the heir.
Biography
Adult life
Nishikado had three sons, including Shoichiro and Sojiro with her husband. He was the Grand Master of the Nishikado family's tea ceremony school. Their relationship became strained, resulting in them arguing often. He kept a mistress, which she seemed to tolerate. By the time Sojiro was in high school, Shoichiro had left the family. Sojiro was expected to inherit the school, leading his mother to ask him to take his father's place at tea ceremonies.[1] In his third year, Sojiro's mother met his old friend Sara Hinata nearby and invited her inside. She informed Sojiro of this after he introduced her to Tsukushi Makino. She acted courteous to her and Rui Hanazawa. As she walked away, Sojiro suddenly yelled "Don't try and pull anything behind my back!"[2] In college, Sojiro formally inherited the family's tea ceremony school.[3]
Physical appearance
Tsukushi thought her "very beautiful."[2] Nishikado had soft features with slight lines around her eyes, denoting her age. She had dark hair pulled up into a traditional Japanese style. Nishikado always kimono, likely due to her status as the wife of a Grand Master.
Personality and traits
Upon meeting her, Tsukushi described Nishikado as "a little cold."[2] She took special care to hide the family's dysfunction in front of strangers. Sometimes the façade fell in front of her family, though she still did not reveal anything. Nishikado had a strained relationship with her husband, whom had a mistress. Though they often argued when they were younger, she appeared to have accepted his infidelity later on. Her relationships with her sons were also likely strained.
Behind the scenes
Character notes
She first appears in the Sojiro-centric chapter, "Story of an Encounter".
Sojiro's mother is briefly mentioned in Hana Yori Dango Returns (2007). Similar to the manga, her elder son leaves the family due to pressure. He also cuts off contact with them.
In Meteor Garden (2018), Xi Men (Sojiro) describes his parents marriage as a "lie". Despite being unhappy in her marriage, she wishes to keep up appearances. It is hinted that her husband cheats on her since he does not come home some nights. Xi Men often catches his mother crying.
Portrayals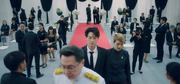 Appearances
Boys Over Flowers
Volume 1
Volume 3
Volume 4
Volume 5
Volume 6
Volume 7
Volume 8
Volume 9
Volume 10
Volume 11
Volume 12
Volume 13
Volume 14
Volume 16
Volume 17
Volume 18
Volume 19
Volume 21
Volume 22
Volume 23
Volume 24
Volume 25
Volume 26
Volume 27
Volume 29
Volume 30
Volume 31
Volume 32
Volume 33
Volume 35
Volume 36
Jewelry Box
Other
Boys Over Flowers (anime)
1
2
3
4
5
6
7
8
9
(First mentioned)
10
11
12
13
14
15
16
17
18
19
20
21
22
23
24
25
26
27
28
29
30
31
32
33
34
35
36
37
38
39
40
41
42
43
44
45
46
47
48
49
50
51
Meteor Garden (2018)
1
2
3
4
5
6
7
8
9
10
11
12
13
14
15
16
17
18
19
20
21
22
23
24
25
26
27
28
29
30
31
32
33
34
35
36
37
38
39
40
(Debut)
41
42
43
44
45
46
47
48
49
References
See also