Shun Oguri (小栗 旬, Oguri Shun, born December 26, 1982 in Tokyo, Japan) is a Japanese actor, who debuted in 1995. He is well known for his roles in the television dramas, including Gokusen, Hanazakari no Kimitachi e, and Hana Yori Dango.
Oguri starred in Hana Yori Dango, Hana Yori Dango Returns, and Hana Yori Dango Final as Rui Hanazawa. He also had a cameo in Hana Nochi Hare.
Biography
Early life
Oguri was born on December 26, 1982 in Tokyo, Japan.[1] His father, Tetsuya Oguri (小栗 哲家, Tetsuya Oguri), is a stage director.[2] Oguri's older brother, Ryo Oguri (小栗 了, Ryo Oguri), is currently a director and was active as an actor until 2006.[3] He also has a sister.[4]
Career
| | |
| --- | --- |
| | This section of this article is empty and needs to be expanded. You can help Boys Over Flowers Wiki by contributing. |
Personal life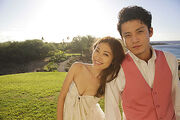 Oguri began dating actress and model Yu Yamada on March 14, 2008, after appearing in Binbo Danshi together.[5] They were officially married on March 14, 2012.[6] In January 2013, they held a wedding ceremony and reception in Hawaii.[7] Their first child, a daughter,[8] was born in October 2014.[9] The couple's second child was born on January 20, 2017.[10]
Filmography
Television dramas
Films
Notes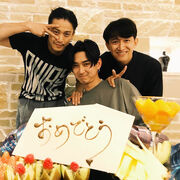 Oguri does not use social media, such as Twitter or Facebook.[16]
References
External links