Shota Matsuda (松田 翔太, Matsuda Shōta, born September 10, 1985 in Suginami, Japan) is an actor best known for his roles in the Hana Yori Dango and Liar Game series'. He is the son of the famous Japanese actor Yusaku Matsuda.
Matsuda played Sojiro Nishikado in Hana Yori Dango, Hana Yori Dango Returns, and Hana Yori Dango Final. He also had a cameo in Hana Nochi Hare.
Biography
Early life
Shota Matsuda was born on September 10, 1985 in Suginami, Tokyo, Japan[1] to Japanese actors, Yusaku and Miyuki Matsuda. Matsuda has an older brother, actor Ryuhei Matsuda (born 1983); a younger sister, musician Yuki (born 1988);[2] and an older half-sister from his father's previous marriage.[3] His father died of bladder cancer on November 6, 1989 at the age of thirty-nine.[4]
Career
Matsuda debuted in 2005 in a television special, titled Yankee Bokou ni Kaeru. The same year, he gained popularity after appearing in Hana Yori Dango as Sojiro Nishikado.[5] He reprised his role in the series' two sequels, Hana Yori Dango Returns (2007)[6] and Hana Yori Dango Final (2008).[7] Matsuda's first starring role was in the 2007 series, Liar Game, opposite Erika Toda.[8] He also starred in the series' sequels, Liar Game: Season 2 (2009),[9] Liar Game: The Final Stage (2010),[10] and Liar Game: Reborn (2012).[11] In 2008, Matsuda appeared in his first taiga drama, Atsuhime.[12] In 2009, he had major roles in Love Shuffle[13] and Meitantei no Okite.[14] The same year, Matsuda and his brother Ryohei participated in a documentary about their father, titled Soul Red Matsuda Yusaku.[15]
In 2010, he appeared in Tsuki no Koibito with Takuya Kimura,[16][17] and Nagareboshi.[18] Matsuda had a starring role in Don Quixote with Katsumi Takahashi in 2011.[19] The same year, he was the lead in Hard Romantic-er as a loner who gets sucked into a violent chain of events.[20] In 2012, he appeared in another taiga drama, Taira no Kiyomori as Emperor Go-Shirakawa.[21] Matsuda starred in Clinic on the Sea with Emi Takei the following year.[22] In 2015, he costarred in the film, Initiation Love, with Atsuko Maeda.[23] Matsuda was the lead in Dias Police: Ihou Keisatsu, based on a manga, in 2016.[24] He reprised the role in the film sequel, Dias Police: Dirty Yellow Boys (2016).[25] In 2017, he costarred in the Amazon Original Final Life: Asu, Kimi ga Kietemo with Shinee's Lee Tae-min.[26] Matsuda had a cameo as Sojiro in the Hana Yori Dango spin-off, Hana Nochi Hare (2018).[27]
Personal life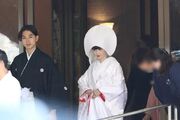 Matsuda began dating Japanese model Kozue Akimoto in November 2014, after meeting through a mutual acquaintance. She is the daughter of the late Chiyonofuji Mitsugu, a sumo grand champion. The couple was married on April 25, 2018 in a traditional Japanese ceremony.[28][29] Akimoto is also friends with Shun Oguri's wife Yu Yamada.[30]
Filmography
Television dramas
Films
Notes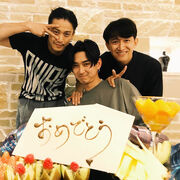 He was going to appear in a film, titled 1905, with Tony Leung until production was cancelled due to various difficulties.[36]
References
External links