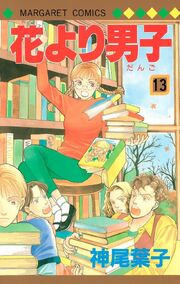 "I think I owe it all to you readers, who've shown so much support for me and for Tsukushi."
—Yoko Kamio thanks her audience
Shogakukan Manga Award (小学館漫画賞, Shōgakukan Mangashō) is one of Japan's major manga awards, sponsored by the publisher, Shogakukan. It has been awarded annually for serialized manga since 1955 and features candidates from a large number of publishers. The current award categories are Children's, Boy's, Girl's, and General.
Yoko Kamio's Boys Over Flowers series won the 41st Shogakukan Manga Award for the Girl's category in 1996.[1] Kamio had been told the year prior that she had been nominated, but thought she would not win and subsequently forgot about it. When she won, Kamio remarked that she did not feel "worthy," considering that Slam Dunk was one of the winners from the year before, but still felt grateful.[2]
References
See also
External links