The title of this article is conjectural. Although it is based on canonical information, the actual name is conjecture and may be supplanted at any time by additional information.
Todo (藤堂, Tōdō) was the family name of Shizuka Todo's parents. He was the president of Todo Trading and expected Shizuka to inherit it once he retired. They were both shocked when she decided to become a lawyer in France instead.
Biography
Todo, the president of Todo Trading, and his wife had one child together, Shizuka Todo. She was expected to inherit the company one day. On her twentieth birthday, she announced at her birthday party that she was going to return to France to become a lawyer for the poor instead. She apologized them, but said "It's time I began my adult life." Her father wondered what would become of his company, while his wife began crying.[1]
Physical appearance
Shizuka's parents were both middle-aged. He had light hair and a dark mustache. Being a company president, he favored suits. Her mother's short, wispy hair had a similar look to Shizuka's, though hers were longer. Shizuka's face also resembled her mother's.
Behind the scenes
Character notes
Portrayals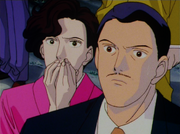 They appear in the tenth episode of the 1996 anime. Her father is voiced by Norito Yashima, while her mother has no lines. At Shizuka's birthday party, she announces her intentions to return to France and renounce her family name. Her father becomes upset, asking her who will inherit his company if not her. Their appearances are also close to that of the original.
They are played by Hibiki Wataru and Rinka Miku in the 2019 musical, Hana Yori Dango.[2] In this version, Shizuka's father is so upset by her announcement that he collapses while clutching his chest. Her mother then rushes to his side.
Appearances
Boys Over Flowers
Volume 1
Volume 2
Volume 4
Volume 5
Volume 6
Volume 7
Volume 8
Volume 9
Volume 10
Volume 11
Volume 12
Volume 13
Volume 14
Volume 15
Volume 16
Volume 17
Volume 18
Volume 19
Volume 20
Volume 21
Volume 22
Volume 23
Volume 24
Volume 25
Volume 26
Volume 27
Volume 28
Volume 29
Volume 30
Volume 31
Volume 32
Volume 33
Volume 34
Volume 35
Volume 36
Jewelry Box
Other
Boys Over Flowers (anime)
1
2
3
4
5
6
7
8
9
(First mentioned)
10
11
12
13
14
15
16
17
18
(Only appearance)
19
20
21
22
23
24
25
26
27
28
29
30
31
32
33
34
35
36
37
38
39
40
41
42
43
44
45
46
47
48
49
50
51
Meteor Garden (2018)
1
2
3
4
5
6
7
8
9
10
11
12
13
14
15
16
17
18
19
20
21
22
23
24
25
26
27
28
29
30
31
32
33
34
35
36
37
38
39
40
41
42
43
44
45
46
47
48
49
References
See also