Shen Yue (Chinese: 沈月; pinyin: Shěn Yuè, born February 27, 1997 in Wugang, China) is a Chinese actress. She made her acting debut in 2017. Shen is well known for her lead roles in A Love So Beautiful, Meteor Garden, Another Me, Count Your Lucky Stars, and Use for My Talent.
Shen starred as the female lead, Dong Shan Cai, in Meteor Garden.
Biography
Early life
Shen Yue was born on February 27, 1997 in Wugang, located in the Hunan province in China.[1] She enrolled at Hunan Normal University in 2014. During her second year, her photographer friend posted a photo of her online, which attracted the attention of her future agent.[2]
Career
After being discovered, she appeared in the reality show Summer Sweetie, and was an intern on the variety show Happy Camp.[3] In August 2017, Shen had small roles in the period drama The Autumn Harvest Uprising (秋收起义) and the romantic-comedy, fantasy Let's Shake It.[4] She was selected for the female lead in the school drama A Love So Beautiful, which began airing on November 9, 2017.[5] The same day, Shen attended a press conference in Shanghai to announce her role as Shan Cai in the remake of Meteor Garden,[6] which premiered on July 9, 2018.[7] She also appeared in The Inn in November 2018 with former Meteor Garden costar Dylan Wang.[8] Shen starred with Chen Duling in Another Me (2019), a television drama based on a film.[9]
In 2020, Shen starred alongside Jerry Yan in the drama, Count Your Lucky Stars.[10][11] She appeared in a film, titled The Yinyang Master, in early 2021.[12] The same year, Shen starred with Jasper Liu in Use for My Talent, a remake of a Korean drama.[13]
Filmography
Television dramas
Films
Notes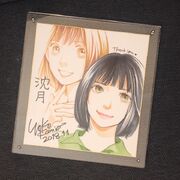 Shen has been nicknamed "Yue Bing" (月饼, lit. "mooncake") by fans.
She has had issues with her Instagram account, which she opened in September 2018. Shen temporarily lost access to it in September 2019, while an impostor account @shenyue97 became verified.[19] As of February 2020, Shen's account is verified and @shenyue97 has been deactivated.
References
External links