"I'll end my story here. Everyone has a role. My role is to look after those two."
"Shall I Talk About Myself? Part 2" (俺の話をしようか 後編, Ore no Hanashi o Shiyō ka Kōhen) is the second half of a two-part side story by Yoko Kamio. It was first published in Margaret No.5 on February 5, 2008.[3] The chapter was included in volume thirty-seven of Boys Over Flowers.
Rui Hanazawa rushes to Tsukushi Makino's side after she has been hospitalized. Tsukasa Domyoji soon arrives and proposes to her, but she refuses. Rui later sends her to Italy, where Tsukushi meets Tsukasa who proposes again.
Plot
| | |
| --- | --- |
| | This section of this article is empty and needs to be expanded. You can help Boys Over Flowers Wiki by contributing. |
Character appearances
Kaede Domyoji (Indirectly mentioned only)

Kimiko Tamura

(Mentioned)
Development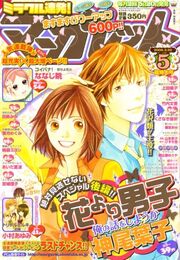 Yoko Kamio was commissioned to write a new seventy-page Boys Over Flowers story for Margaret after a special chapter in July 2006.[4] The second half of the story was published in Margaret No.5 on February 5, 2008.[1] It was a continuation of the previous chapter published earlier in January 2008.[5] Both chapters were collected into the thirty-seventh volume of Boys Over Flowers.
"Shall I Talk About Myself?" focuses on Rui Hanazawa whom Kamio wanted to convey was not "just an absentminded boy." For the second part of the story, she went scouting in Tuscany, Italy and booked a tour at the Leaning Tower of Pisa.[6]
Notes
References
See also