"Actually, I am a little bit interested. Not in the girl, but whether I'll ever fall in love again"
"Shall I Talk About Myself? Part 1" (俺の話をしようか 前編, Ore no Hanashi o Shiyō ka Zenpen) is a special chapter originally published in Margaret in January 2008.[1] It was later included in the thirty-seventh volume of Boys Over Flowers. The story is the first told from Rui Hanazawa's point-of-view, followed by its sequel in February.
In Italy, Rui meets Tsukasa Domyoji who suggests for him to meet a girl named Kimiko. He decides to go on a date with her. During the date, Rui receives word that Tsukushi Makino has been hospitalized.
Plot
| | |
| --- | --- |
| | This section of this article is empty and needs to be expanded. You can help Boys Over Flowers Wiki by contributing. |
Character appearances
Development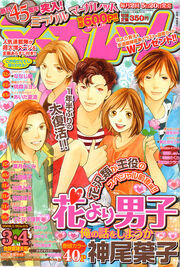 Following a special chapter in July 2006, Yoko Kamio was commissioned to write a new seventy-page Boys Over Flowers story for Margaret. "Shall I Talk About Myself?" was announced by Margaret in their December 2007 issue. The first half, numbering at forty pages, was published in Margaret No.3-4 on January 4, 2008.[2] It was followed by the second half in February. Both stories were later collected into the thirty-seventh volume of Boys Over Flowers.
Kamio chose to write about Rui, saying that he was "the person [she] most wanted to do a story on." She was spurred on by Shun Oguri, who told her that he "didn't know what Rui was thinking about." At the time, Kamio was working on Cat Street, delaying the story's outline by six months. The story took another five months to write.[1]
Notes
References
See also