The title of this article is conjectural. Although it is based on canonical information, the actual name is conjecture and may be supplanted at any time by additional information.
The grandmother (祖母, grandmother)[1] of Sakurako Sanjo whom she lived with Tokyo, Japan. Following the deaths of Sakurako's parents, the family was forced to live off her inheritance. She was often worried about her granddaughter.
Biography
After the deaths of Sakurako Sanjo's parents, she moved in with her grandmother and grandfather. Unable to fully support her, they lived off the small fortune left by her parents.[2] After Sakurako had plastic surgery done, her grandmother frequently worried about her. At first, Sakurako denied being unhappy but later confided in her grandmother saying "I really have nothing at all. Not even a friend."[3][4]
Physical appearance
She was an elderly woman with grey or white hair, which she styled in a low bun. Her face and hands were lined with wrinkles. Sakurako's grandmother typically wore a traditional Japanese kimono.
Behind the scenes
Character notes
Portrayals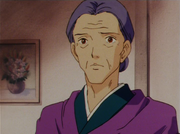 In the anime, she is voiced by Midori Yamamoto (山本 緑) in the episode "Get Lost!!." Her personality and appearance are carried over from her manga counterpart. She apparently is aware of Sakurako's self-destructive behavior, which causes her to worry. Sakurako confides in her grandmother about her looks not fulfilling her like she thought. In a later episode, Sakurako claims that her grandmother's cooking is the best.
Appearances
Boys Over Flowers
Volume 1
Volume 2
Volume 3
Volume 7
Volume 8
Volume 9
Volume 10
Volume 11
Volume 12
Volume 13
Volume 14
Volume 15
Volume 16
Volume 17
Volume 18
Volume 19
Volume 20
Volume 21
Volume 22
Volume 23
Volume 24
Volume 25
Volume 26
Volume 27
Volume 28
Volume 29
Volume 30
Volume 31
Volume 32
Volume 33
Volume 34
Volume 35
Volume 36
Jewelry Box
Other
Boys Over Flowers (anime)
1
2
3
4
5
6
7
8
9
10
11
12
13
14
15
16
17
18
(First mentioned)
(Debut)
(Mentioned)
(No lines)
19
20
21
22
23
24
25
26
27
28
29
30
31
32
33
34
35
36
37
38
39
40
41
42
43
44
45
46
47
48
49
50
51
(Mentioned)
References
See also