Saki Seto (瀬戸 早妃, Seto Saki, born June 21, 1985 in Sendai, Japan), who now works under the name Saki (咲嬉, Saki), is an actress, model and tarento. She also worked as a gravure idol until 2017. Seto is best known for her roles in Shimokita Glory Days and Hana Yori Dango.
Seto portrayed Yuriko Asai in the 2005 drama, Hana Yori Dango, and the sequel, Hana Yori Dango Returns.
Biography
Early life
She was born June 21, 1985 in Sendai, the capital city of Japan's Miyagi Prefecture.[1] Seto has two older brothers.[2] She graduated from a local all-girls high school.
Career
Seto was first scouted in high school, initially turning down the opportunity.[3] She officially debuted in 2001[4] as a gravure idol. In 2003, she was selected as "Miss Weekly Shonen Magazine" for Miss Magazine's annual contest.[5] Following a few small television roles, Seto had her film debut Seoul Raider, a 2005 Hong Kong production.[6] The same year, she had supporting roles in the dramas, Haruka Seventeen[7] and Hana Yori Dango.[8]
In 2013, she transferred to the agency, Production Ogi.[9]
Personal life
On May 27, 2019, Seto announced her engagement to singer and actor Mario Tashiro (田代万里生, Mario Tashiro). They first met during the spring of 2010, but did not start dating until meeting again in January 2014.[10]
Filmography
Television dramas
Year
Title
Role
Notes
2003
Dunichi Love
Episode 7
17-Sai Natsu
Jun
Episode 10
2004
19borders
Tae Matsuyama
2005
Mito Komon seasons 33, 34
Matsuhime
Mika Sakaguchi
Haruka Seventeen
Yuri Sakura
Hana Yori Dango
Yuriko Asai
2006
Gekidan Engimono: Otoko no Yume
Yokoyama
Toritsu Mizusho!
Mari Oda
Special
Shimokita Glory Days
Minori Tajima
Kiraware Matsuko no Issho
Reiko
2007
Hana Yori Dango Returns
Yuriko Asai
Shindo 0
Hitomi Aso
Special
Mito Komon
Mika Sakaguchi
2008
Hakui no Tenshi wa Mita
Sumiko Egawa
2011
Futari Ecchi
Miyuki Kikuchi
Nishimura Kyotaro Suspense Totsukawa Keibu
Kumi Igarashi
Season 45
2013
Tank Top Fighter
Akiko Kamijo
Episode 5
Inochi: Tengoku no Mama e
Reimi Kizu
2014
White Lab: Keishicho Tokubetsu Kagaku Sosahan
Nao Hirose
Episode 1
Hanasaki Mai ga Damattenai
Ayana
Episodes 1-2
Osaka Kokusaikuko Satsujin Jiken
Midori Takahashi
2015
Sai Sosa Keiji Kataoka Yusuke season 8
Miyuki Maejima
2017
Doctor-X: Surgeon Michiko Daimon season 5
Prosecutor
2018
Legal V: Moto Bengoshi Kotoriasobu Shoko
Episode 7
Films
Year
Title
Role
Notes
2005
Seoul Raiders
Saya
2008
Sora e: Sukui no Tsubasa Rescue Wings
Meiko Yokoyama
2012
Nana to Kaoru: Chapter 2
Michiko Tachibana
2014
Happy Negative Marriage: Part 1
Shimako Akio
Happy Negative Marriage: Part 2
2016
Love Stories 2
Misaki
"Yureru Kokoro"
Notes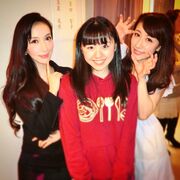 References
External links