The title of this article is conjectural. Although it is based on canonical information, the actual name is conjecture and may be supplanted at any time by additional information.
Hanazawa (花沢, Hanazawa) was the president of Hanazawa Company. He was the father of Rui Hanazawa, who was his only child and would therefore inherit his company. Hanazawa was strict with Rui when he was younger. He owned a large mansion in Tokyo, though he appeared to not spend much time there.
Biography
Hanazawa was the owner of Hanazawa Company. His only son, Rui, was in line to inherit the company.[1] He was extremely strict with his son when he was a child, causing Rui to become depressed.[2] Additionally, Hanazawa was an influential businessman, possibly on par with the head of Domyoji Group as they both seemed to frighten Eitoku Academy's principal.[3]
Behind the scenes
Character notes
Like the fathers of the other F4 members, Hanazawa has been mentioned on a few occasions but has never appeared.
Portrayals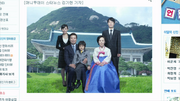 He is portrayed by an unidentified actor in a photograph in Boys Over Flowers (2009). In the drama, he and his wife were killed in a car accident when Yoon Ji-hoo (Rui) was five.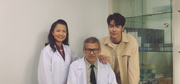 Appearances
Boys Over Flowers
Volume 1
Volume 3
Volume 4
Volume 5
Volume 6
Volume 9
Volume 11
Volume 12
Volume 13
Volume 14
Volume 15
Volume 16
Volume 17
Volume 18
Volume 19
Volume 20
Volume 21
Volume 22
Volume 23
Volume 24
Volume 25
Volume 26
Volume 27
Volume 28
Volume 29
Volume 30
Volume 31
Volume 32
Volume 33
Volume 36
Jewelry Box
Other
Boys Over Flowers (anime)
1
2
3
4
5
6
7
8
9
(First mentioned)
10
11
12
13
14
15
16
17
18
19
20
21
22
23
24
25
26
27
(Mentioned)
(Mentioned)
28
29
30
31
32
33
34
35
36
37
38
39
40
41
42
43
44
45
46
47
48
49
50
51
References
See also