Yang Cheng Lin (Chinese: 楊丞琳; pinyin: Yáng Chénglín, born June 4, 1984 in Taipei, Taiwan), also known as Rainie Yang, is an actress, singer, and television host. She is well known for her work in Meteor Garden, Devil Beside You, Hi My Sweetheart, and Life Plan A and B.
She played Xiao You in the television dramas, Meteor Garden and Meteor Rain.
Biography
Early life
Yang was born on June 4, 1984 in Taipei, Taiwan, where she was raised by her family. Her father, a native of Foshan, China, taught her Cantonese at a young age. In 1997, her father's business failed and Yang at the age of thirteen began considering a career in show business. Following her parents divorce, she lived with her mother and elder sister.
Career
In 2000, she was recruited by BMG for the Mandopop girl group, 4 in Love. Yang was given the stage name "Rainie" to fit in with the group's weather theme. The group released two albums, Fall in Love (2000) and Who's Afraid of Whom? (2001), before disbanding. Yang had a supporting role as Xiao You in the megahit drama, Meteor Garden, in 2001. She reprised the role in the miniseries, Meteor Rain (2001). The next year, Yang had a starring role in Tomorrow. She followed with lead roles in Lavender 2 (2002), The Pink Godfather, and The Original Scent of Summer (both 2003).
She starred in Devil Beside You alongside Mike He and Kingone Wang in 2005. Yang released her first solo album, My Intuition, in 2005, featuring the theme songs to Devil Beside You. She reunited with He and Wang for the 2007 drama, Why Why Love. The theme songs to Why Why Love were included on Yang's album, My Other Self (2007). Also in 2007, Yang appeared with Isabella Leong in the lesbian-themed film, Spider Lilies. Her next drama, Miss No Good, costarring Wilber Pan and Dean Fujioka aired in 2008. In 2009, Yang appeared in the romantic comedy dramas, ToGetHer and Hi My Sweetheart, and Hong Kong horror flick, The Child's Eye.
Yang released her fifth album, Rainie & Love...? on New Years Day 2010. She also re-recorded her song "Ai Mei" (曖昧, lit. "Ambiguous") in Japanese and released it as her first Japanese single in 2010. To promote the release of her collection album, Whimsical World Collection (2010), she held a concert in Taipei with Jerry Yan as a guest. In 2011, she appeared in Love You and Sunny Girl. Yang reunited with Show Luo for the online miniseries, HeartBeat Love (2012). In 2016, she appeared with Johnny Lu in Life Plan A and B. She starred in The Ex-Man with Lan Cheng-lung in May 2018.
Personal life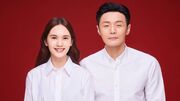 Yang first met
Li Ronghao
, a singer-songwriter and producer, in 2007 when he wrote a song for her to record. They did not start dating until much later.
[1]
Their relationship was exposed in early 2015, when Li accidentally uploaded a photo of him and Yang on his
Sina Weibo
account.
[2]
Li proposed to her on July 11, 2019, which was also his thirty-fifth birthday.
[1]
Yang announced that the two had registered their marriage on September 20 of the same year.
[3]
Filmography
Television dramas
Films
Notes
Yang has worked with producer Angie Chai on several projects, including Meteor Garden, Meteor Rain, City of Sky, Devil Beside You, Why Why Love, Miss No Good, and Hi My Sweetheart.
She was close friends with Beatrice Hsu. Yang was present at Hsu's funeral[4] and continues to wish her a happy birthday on social media every year.[5]
In late April 2018, Yang shared Barbie Hsu's post about Shan Cai, commenting that "Meteor Garden is a drama from another generation. This generation's viewers just found out that I am Xiao You." In another post, Yang revealed that she was originally cast as Li Zhen.[6]
References
External links
Community content is available under
CC-BY-SA
unless otherwise noted.