"Qing Fei De Yi" (Chinese: 情非得已; pinyin: Qíng Fēi Dě Yǐ)[1] is a song performed by Harlem Yu. It was released on his twelfth studio album, Tidal Wave. The song was the opening theme of the Taiwanese drama, Meteor Garden (2001) and was included in the soundtrack. It was also used in the 2018 remake.
Background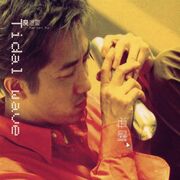 The song was composed by Tang Xiao Kang (汤小康), who moved to Taipei in 1999 to pursue his musical dreams. His career took off when Harlem Yu chose to record "Qing Fei De Yi" in 2001. The song was used as the theme song for the hit Taiwanese drama, Meteor Garden.[2] Yu had a cameo in the final episode of Meteor Garden, in which he played a street musician performing the song.
In 2018, lyrical and instrumental versions of the song were used in the remake of Meteor Garden.[3] Blake Abbie, who portrayed Thomas, sung it in an episode. Yu later had a cameo, once again playing the song, in the series finale alongside the main characters and producer Angie Chai.
Staff
Lyrics: Zhang Guo Xiang
Composer: Tang Xiao Kang
Arrangment: Jamie Wilson
Lyrics
難以忘記初次見妳 一雙迷人的眼睛
在我腦海裡 妳的身影 揮散不去
握妳的雙手感覺妳的溫柔 真的有點透不過氣
妳的天真 我想珍惜 看到妳受委曲 我會傷心 喔

只怕我自己會愛上妳 不敢讓自已靠的太近
怕我沒什麼能夠給你 愛妳也許要很大的勇氣

只怕我自己會愛上妳 也許有天會情不自禁
想念只讓自已苦了自己 愛上妳是我情非得已

難以忘記初次見妳 一雙迷人的眼睛
在我腦海裡 妳的身影 揮散不去
握妳的雙手感覺妳的溫柔 真的有點透不過氣
妳的天真 我想珍惜 看到妳受委曲 我會傷心 喔

只怕我自己會愛上妳 不敢讓自已靠的太近
怕我沒什麼能夠給你 愛妳也許要很大的勇氣

只怕我自己會愛上妳 也許有天會情不自禁
想念只讓自已苦了自己 愛上妳是我情非得已

什麼原因 YA
我竟然又會遇見你 我真的真的不願意
就這樣陷入愛的陷阱 OH

只怕我自己會愛上妳 不敢讓自已靠的太近
怕我沒什麼能夠給你 愛妳也許要很大的勇氣

只怕我自己會愛上妳 也許有天會情不自禁
想念只讓自已苦了自己 愛上妳是我情非得已

愛上妳是我情非得已
Nan yi wang ji chu ci jian ni Yi shuang mi ren de yan jing
Zai wo nao hai li Ni de shen ying Hui san bu qu
Wo ni de shuang shou gan jue ni de wen rou Zhen de you dian tou bu guo qi
Ni de tian zhen Wo xiang zhen xi Kan dao ni shou wei qu Wo hui shang xin Oh...

Zhi pa wo zi ji hui ai shang ni Bu gan rang zi ji kao de tai jin
Pa wo mei shen me neng gou gei ni Ai ni ye xu yao hen da de yong qi

Zhi pa wo zi ji hui ai shang ni Ye xu you tian hui qing bu zi jin
Xiang nian zhi rang zi ji ku le zi ji Ai shang ni shi wo qing fei de yi

Nan yi wang ji chu ci jian ni Yi shuang mi ren de yan jing
Zai wo nao hai li Ni de shen ying Hui san bu qu
Wo ni de shuang shou gan jue ni de wen rou Zhen de you dian tou bu guo qi
Ni de tian zhen Wo xiang zhen xi Kan dao ni shou wei qu Wo hui shang xin Oh...

Zhi pa wo zi ji hui ai shang ni Bu gan rang zi ji kao de tai jin
Pa wo mei shen me neng gou gei ni Ai ni ye xu yao hen da de yong qi

Zhi pa wo zi ji hui ai shang ni Ye xu you tian hui qing bu zi jin
Xiang nian zhi rang zi ji ku le zi ji Ai shang ni shi wo qing fei de yi

Shen me yuan yin Ya...
Wo jing ran you hui yu jian ni Wo zhen de zhen de bu yuan yi
Jiu zhe yang xian ru ai de xian jing Oh...

Zhi pa wo zi ji hui ai shang ni Bu gan rang zi ji kao de tai jin
Pa wo mei shen me neng gou gei ni Ai ni ye xu yao hen da de yong qi

Zhi pa wo zi ji hui ai shang ni Ye xu you tian hui qing bu zi jin
Xiang nian zhi rang zi ji ku le zi ji Ai shang ni shi wo qing fei de yi

Ai shang ni shi wo qing fei de yi
Listen
YouTube
Spotify
Notes
References
See also