The title of this article is conjectural. Although it is based on canonical information, the actual name is conjecture and may be supplanted at any time by additional information.
The principal (校長, kōchō) of Eitoku Academy, who, like the teachers, turned a blind eye to the F4's behavior. He allowed the F4 to bully their fellow students with no push back. On one occasion, Tsukasa Domyoji tried to pressure him into expelling Tsukushi Makino and Rui Hanazawa.
Biography
Eitoku Academy received substantial donations from the families of the F4. As such, they were given free reign of the school by the principal and teachers. One day, Tsukasa Domyoji ordered the principal to expel Tsukushi Makino and Rui Hanazawa or he would cut off her family's money. The principal was reluctant to agree to expelling Rui, whose father was also influential. Tsubaki Domyoji then walked in and asked him to "ignore everything [Tsukasa] said." The matter was subsequently settled among the students themselves.[1]
Physical appearance
He was an older man, likely in his forties. His short hair was light-colored, perhaps grey. He also had noticeable wrinkles, small eyes, and thick, dark eyebrows. The principal was only seen wearing a suit.
Behind the scenes
Character notes
Portrayals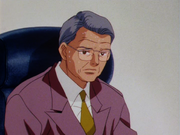 Appearances
Boys Over Flowers
Volume 1
Volume 2
Volume 3
Volume 4
Volume 5
Volume 6
Volume 7
Volume 9
Volume 10
Volume 11
Volume 12
Volume 13
Volume 14
Volume 15
Volume 16
Volume 17
Volume 18
Volume 19
Volume 20
Volume 21
Volume 22
Volume 23
Volume 24
Volume 25
Volume 26
Volume 27
Volume 28
Volume 29
Volume 30
Volume 31
Volume 32
Volume 33
Volume 34
Volume 35
Volume 36
Jewelry Box
Other
Boys Over Flowers (anime)
1
2
3
4
5
6
7
8
9
10
11
12
13
14
15
16
17
18
19
20
21
22
23
24
25
26
27
(Debut)
28
29
30
31
32
33
34
35
36
37
38
39
40
41
42
43
44
45
46
47
48
49
50
51
(Voice only)
References
See also