Hiroko: "The F4 are famous even at Yamanote Academy!"
Noriko: "It's like a dream to be here with the F4."
— Noriko and Hiroko
Noriko (紀子, Noriko) was a friend of Hiroko. She was a student at Yamanote Women's Academy. Noriko and Hiroko were invited by Sojiro Nishikado on the F4's trip. She stayed in Rui Hanazawa's room.
Biography
Her father was a corporate head, who owned a vacation home in Karuizawa.[1] She went to Yamanote Women's Academy with her friend, Hiroko.[2] Noriko and Hiroko were at a nightclub when Sojiro Nishikado picked them up. He later invited them on the F4's trip to Tsukasa Domyoji's island. Noriko was to stay in Rui Hanazawa's room. She was excited because he was her favorite in the F4.[1] However, Rui never came to the room. Noriko told her friend that she was "depressed" about it.[3] On the last day, Tsukasa left in his private jet, therefore leaving everyone behind. Noriko was distressed because she had a test the next day. She likely missed it anyway. They were forced to take Kazuya Aoike's boat home, which took two whole days.[4]
Physical appearance
Noriko was a cute girl though slightly less so than Hiroko. Her light-colored hair was always styled in a bun. She also had short bangs. Noriko had small eyes with short eyelashes. Her clothes were less stylish when compared to Hiroko's.
Personality and traits
She was a generally cheerful girl. Despite being from an upper-class family, she was easily impressed by those wealthier than her family. Noriko was a huge fan of the F4, particularly Rui. She was nice, if a bit of a airhead.
Behind the scenes
Character notes
Portrayals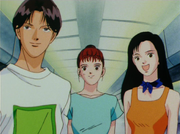 Mayumi Azuma (東 真由美) voices Noriko in three episodes of the Boys Over Flowers anime (1997). Her personality from the manga is kept intact. She and Hiroko join the F4's trip to Tsukasa's island. Hiroko, who has a crush on Rui, is looking forward to staying in the same room as him. Unlike in the manga, she never mentions to Hiroko about him not coming to the room at night.
Noriko appears in the Takarazuka musical Hana Yori Dango (2019). She is played by Koko Miyahime, who also portrays Ayano Kurimaki.[5] She and Hiroko both openly flirt with Rui, whom reciprocates it by kissing them both.
Appearances
Boys Over Flowers
Volume 1
Volume 2
Volume 3
Volume 4
Volume 5
Volume 8
Volume 9
Volume 10
Volume 11
Volume 12
Volume 13
Volume 14
Volume 15
Volume 16
Volume 17
Volume 18
Volume 19
Volume 20
Volume 21
Volume 22
Volume 23
Volume 24
Volume 25
Volume 26
Volume 27
Volume 28
Volume 29
Volume 30
Volume 31
Volume 32
Volume 33
Volume 34
Volume 35
Volume 36
Jewelry Box
Other
Boys Over Flowers (anime)
1
2
3
4
5
6
7
8
9
10
11
12
13
14
15
16
17
18
19
20
21
22
23
24
25
26
27
(Debut)
28
29
30
31
32
33
34
35
36
37
38
39
40
41
42
43
44
45
46
47
48
49
50
51
References
See also