Nishikado Mansion (西門 邸, Nishikado-tei) is the residence of Sojiro Nishikado and his family. His mother, father, and younger brother also reside here.
The Nishikado family also owns residences in Hawaii, Hokkaido, and Monaco.[4]
Description
Inhabitants
Behind the scenes
Note
Portrayals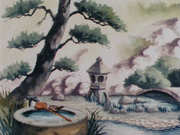 In the 1996 anime, the house is featured in one scene of the episode "It's Showdown Time!." Its appearance is very similar to how it is shown in chapter one hundred and two. In the episode, Sojiro brings his friends into one of the traditional style rooms. There they talk about Tsukasa's night with Tsukushi. Additionally, the traditional Japanese garden is featured.
Appearances
Boys Over Flowers
Volume 1
Volume 2
Volume 3
Volume 4
Volume 5
Volume 6
Volume 7
Volume 8
Volume 9
Volume 10
Volume 11
Volume 12
Volume 13
Volume 14
Volume 15
Volume 17
Volume 18
Volume 19
Volume 21
Volume 23
Volume 24
Volume 25
Volume 29
Volume 30
Volume 31
Volume 32
Volume 33
Volume 34
Volume 35
Volume 36
Jewelry Box
Other
Boys Over Flowers (anime)
1
2
3
4
5
6
7
8
9
10
11
12
13
14
15
16
17
18
19
20
21
22
23
24
25
26
27
28
29
30
31
32
33
34
35
36
37
38
39
40
41
42
43
44
45
(Debut)
46
47
48
49
50
51
References
See also