Manga

Taiwan

Japan

S. Korea

China

Thailand
"The president. She frightens me sometimes. She'll manipulate her children in any way if it will help the business. To her, her children are just more assets."
—Nishida talks about his boss
Nishida (西田, Nishida) was the personal secretary of Kaede Domyoji, president of Domyoji Group. He frequently traveled between New York City and Japan to complete Kaede's orders. Nishida was extremely loyal to his job, never stepping a toe out of line. Despite this, he was sometimes uncomfortable with the way Kaede treated her children.
Biography
Adult life
At some point, he began working for Kaede Domyoji as her personal secretary at Domyoji Group. Nishida often traveled with her from New York City to Tokyo or anywhere else.[1]
Tsukasa and Tsukushi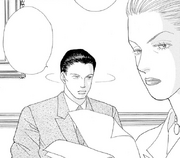 Nishida traveled to Japan with his boss for the birthday of her son, Tsukasa. An incident occurred which required Nishida to do research on Tsukushi Makino, whom was involved with Tsukasa. He reported his findings to Kaede within a few hours. She then declared that she must put her plan into action.[1] He asked her if she meant the plan for after Tsukasa's graduation. She told him "I won't allow [the Domyoji fortune] to be destroyed by Tsukasa's whims." Nishida later told a coworker that Kaede frightened due to the way she manipulated her children for business.[2] In the morning, he accompanied Kaede to Tsukushi's house. She attempted to pay off her family but Tsukushi's mother rejected the offer.[3] The next night, Nishida delivered a letter to Tsukushi from Kaede. He then escorted her to The Maple Hotel.[4]
A few days later, Nishida reported to Kaede that Tsukasa and his arranged fiancée Shigeru Okawahara were meeting two to three times a week. When she asked about Tsukushi, he revealed that Shigeru was regularly meeting her.[5] After the engagement was broken, Nishida likely followed Kaede to London for her business trip.[6] He returned with her several days later. When she came home, she discovered that Tsukasa was involved with Tsukushi again.[7] She had Nishida gather information on Tsukushi's friends, Yuki Matsuoka and Kazuya Aoike. It was used to hurt Tsukushi by putting her friends in dire financial straits. Nishida arranged it all in three hours.[8] The same day, Nishida watched Tsukushi approach the house and announced it to Kaede. She asked him to leave the room while she spoke to Tsukushi.[9]
Kaede wanted a contingency plan to keep Tsukasa and Tsukushi apart. Nishida was ordered by her to offer a deal to Amon Kunisawa, who looked strikingly similar to Tsukasa. He accepted the offer.[10] Sometime later, Amon called Nishida to tell him that he and Tsukushi were a couple. He also reiterated that he did not want any money.[11] A few days later, Nishida gave Kaede a report he received from the Domyojis' secret police whom were tasked with watching Tsukasa and Tsukushi.[12] Sometime later, Nishida congratulated Kaede on her negotiations with another company. She walked pass him without saying anything.[13] Later, when Tsukasa was injured and taken to the hospital, Nishida went to Japan with Kaede. He grinned when Kaede finally decided to leave Tsukasa and Tsukushi alone.[14]
Physical appearance
Nishida was unassuming man with no particularly distinguishable features. He had had short black hair, which he slicked back with some sort of hair product. Nishida was never seen not wearing a suit, which was likely his uniform.
Personality and traits
He was a loyal employee to Kaede, always following her orders perfectly. However, he displayed some hesitancy at the orders regarding her children. Nishida was frightened by the way Kaede seemed to treat her children as "more assets." Nevertheless, he followed through with the orders without giving his opinion. Nishida was happy when Kaede decided to let Tsukasa and Tsukushi be together.
Behind the scenes
Character notes
Portrayals
See also: Category:Nishida portrayals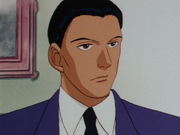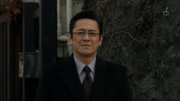 Appearances
Boys Over Flowers
Volume 1
Volume 2
Volume 3
Volume 4
Volume 5
Volume 6
Volume 7
Volume 8
Volume 9
Volume 10
Volume 11
Volume 12
Volume 13
Volume 14
Volume 15
Volume 18
Volume 19
Volume 20
Volume 22
Volume 23
Volume 25
Volume 27
Volume 28
Volume 29
Volume 31
Volume 33
Volume 34
Volume 35
Volume 36
Jewelry Box
References
See also