Manga

Japan
The title of this article is conjectural. Although it is based on canonical information, the actual name is conjecture and may be supplanted at any time by additional information.
This man was an enterpriser (NYの企業家, enterpriser)[1] based in New York City.
Biography
Physical appearance
Personality and traits
Behind the scenes
Character notes
Portrayals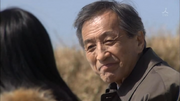 A version of the enterpriser, named Toyama, is portrayed by Gaku Yamamoto in Hana Yori Dango Returns (2007). In the drama, he is Japanese and the president of an IT company with a new invention. He tries to kill himself since his company is not doing well. Tsukushi saves him and encourages him to continue living. His company later begins to do well and partners with Domyoji Group, which he chooses because their heir is engaged to Tsukushi.
Appearances
Boys Over Flowers
Volume 1
Volume 2
Volume 3
Volume 4
Volume 5
Volume 6
Volume 7
Volume 8
Volume 9
Volume 10
Volume 11
Volume 12
Volume 13
Volume 14
Volume 15
Volume 16
Volume 17
Volume 18
Volume 19
Volume 20
Volume 21
Volume 22
Volume 23
Volume 24
Volume 25
Volume 26
Volume 27
Volume 28
Volume 31
Volume 32
Volume 34
Volume 35
Volume 36
Jewelry Box
Other
References
See also