Naohito Fujiki (藤木 直人, Fujiki Naohito, born July 19, 1972 in Kurashiki, Japan) is a Japanese actor and musician from the Okayama Prefecture. He initially tried to become a model in 1993, before making his acting debut in 1995. Fujiki later launched his musician career in 1999.
He costarred as Rui Hanazawa in the 1995 film, Hana Yori Dango, and Kazu Kaburagi in Hana Yori Dango Final (2008).[1]
Biography
Early life
Fujiki and his fraternal twin were born on July 19, 1972 in Kurashiki, Okayama, Japan. He graduated from Chiba Prefectural Sakura Senior High School and Waseda University.
Career
In 1993, Fujiki auditioned for the magazine, Men's Non-no. He made his film debut in Hana Yori Dango (1995) as Rui Hanazawa. Fujiki began acting and singing full-time in 1999, after graduating from college in 1997. He has also appeared in several television series, such as Asuka (1999), Love Revolution, Antique (both 2001), Itoshi Kimi e (2004), Gal Circle (2006),Hotaru no Hikari (2007), Around 40: Chumon no Oi Onnatachi (2008), and Last Cinderella (2013). His well known film roles are Game (2003) and Hotaru no Hikari (2012).
Personal life
Fujiki married his long-time girlfriend on December 27, 2005. They had their first child in December 2006 and their second in May 2010.
Selected filmography
Films
Television dramas
Year
Title
Role
Notes
1998
GTO
Ryuji Saejima
Nanisama!
Mikio Takasugi
1999
Asuka
Shunsaku Hayate
2000
Nurse no Oshigoto 3
Kentaro Takasugi
Mofuku no Rendezvous
Satoshi Michiki
2001
Love Revolution
Eichiro Suga
Antique: Seiyo Kotto Yougashiten
Yusuke Ono
2002
Hatsutaiken
Takumi Hirota
Nurse no Oshigoto 4
Kentaro Takasugi
2003
Koukou Kyoshi
Ikumi Koga
Taikoki: Saru to Yobareta Otoko
Oda Nobunaga
2004
Itoshi Kimi e
Shunsuke Izumi
Shukumei
Akihiko Uryu
2005
Slow Dance
Eisuke Serizawa
Hoshi ni Negai wo
Kuniaki Takeda
1 Litre no Namida
Hiroshi Mizuno
2006
Kobayakawa Nobuki no Koi
Kyosuke Nishi
Galcir
Shinnosuke Kitajima
2007
1 Litre no Namida Tokubetsu Hen: Tsuioku
Hiroshi Mizuno
Operation Love
Tetsuya Tada
Hotaru no Hikari
Seiichi Takano
2008
Around 40: Chumon no Oi Onnatachi
Keitaro Okamura
Shibatora
Kojiro Fujiki
2009
Ikemen Sobaya Tantei
Juntaro Higuchi
Yako no Kaidan
Michio Sayama
2010
Saigo no Yakusoku
Shinichiro Okanaka
Nakanai to Kimeta hi
Seiji Kirino
Hotaru no Hikari 2
Seiichi Takano
2011
Control: Hanzai Shinri Sousa
Jun Nagumo
Shiawase ni Naro yo
Hidehiko Yashiro
Sengyoshufu Tantei: Watashi wa Shadow
Takefumi Asagi
2012
Taira no Kiyomori
Saigyo
Mikeneko Holmes no Suiri
Hiroshi Katayama
Priceless: Aru Wake nee Daro, Namon!
Toichiro Oyashiki
2013
Oyari Haishaku: Yoidore Kotoji Tomegaki
Jusaburo Koda
Onna Nobunaga
Ieyasu Tokugawa
Last Cinderella
Rintaro Tachibana
Doctor-X: Gekai Daimon Michiko 2
Shinobu Kondo
2014
Yonimo Kimyo na Monogatari
Doctor
Sayonara Watashi
Yosuke Hoshino
2015
Kokoro ga Pokitto ne
Shin Otake
37.5°c no Namida
Chikara Yanagi
2016
Eiko Kyoju no Jikenbo
Eiko Unobe
The Last Cop
Satoshi Matsura
2017
Haha ni Naru
Yoichi Kashiwazaki
2018
Final Cut
Rui Momose
Good Doctor
Seiji Takayama
2019
Innocence
Kyoichiro Akiu
Notes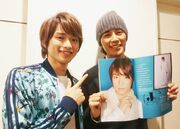 References
External links
Community content is available under
CC-BY-SA
unless otherwise noted.