Nakatsuka (中塚, Nakatsuka) was Yuki Matsuoka's former boyfriend. He and Yuki attended the same public high school, where they first met one another. Nakatsuka dated Yuki for a short time. They broke up after she discovered him cheating on her with Mika. Later, Yuki was able to get back at Nakatsuka with the help of Sojiro Nishikado.
Biography
High school
Nakatsuka attended a public high school, where he met Yuki Matsuoka. They were in one class together.[1]
Dating Yuki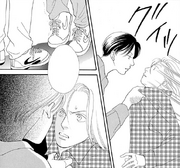 After exchanging pager numbers with Yuki, Nakatsuka went out on a date with her. He walked her home and kissed her.[1] They began dating and spent a lot of time together Their dates consisted of going to the skate park or studying at the library.[2] One day, Yuki asked Nakatsuka on a double date with her friend Tsukushi Makino and her boyfriend Tsukasa Domyoji. At the start of the date, Nakatsuka made several rude remarks to Tsukasa. He acted as if he was joking all the while.[3] They then went to an amusement park, where they decided to split up and meet later. Nakatsuka ran into some girls he knew and made plans for that night. He asked Tsukasa if he wanted to go along with him and even said "There are lots of girls prettier than yours." Tsukasa punched him just as Tsukushi and Yuki walked up.[4]
After being punched by Tsukasa, Nakatsuka stormed off. He claimed that he only "put [his] hand on [Tsukasa's] shoulder."[5] Nakatsuka stopped contacting Yuki and later went on a date with Mika. He described Yuki to her as "boring." When Mika saw Yuki watching, she asked "Who's that?" He claimed not to know her. Tsukushi confronted Nakatsuka and punched him in face.[6] That night, he went to a club with Mika. She dumped him when Sojiro Nishikado showed interest in her. Angry, Nakatsuka told her that he would "go back to [his] old girlfriend." Then Sojiro grabbed Yuki from a corner, shocking Nakatsuka. When Sojiro asked if she knew him, she said that she did not.[7] Sojiro threatened Nakatsuka with physical violence if he ever made Yuki cry again. Tsukasa then knocked him out with a sleeper hold.[8]
Physical appearance
Nakatsuka's most noticeable physical trait was his long hair, which Yuki initially did not "care for." She also described him as looking like a "street kid kind of guy." A typical outfit for Nakatsuka consisted of baggy pants, simple shirt that he usually layered with a jacket or hooded sweatshirt, and finally a pair of sneakers.
Personality and traits
On first impression, Yuki thought he "seemed like the playboy type." Yuki's intuition was right, but Nakatsuka managed to fool her into thinking he was actually a "down-to-earth" person. Sojiro described Nakatsuka as the type of guy who thought of himself as "God's gift to women." On top of being a playboy, he was shown to a generally rude and inconsiderate person. For example, Nakatsuka made several comments about Tsukasa's physical appearance and his upbringing in an attempt to make a fool of him. Later, he stopped contacting Yuki and essentially broke up with her without the decency to do it in person.
Behind the scenes
Character notes
Portrayals
See also: Category:Nakatsuka portrayals
Appearances
Boys Over Flowers
Volume 1
Volume 2
Volume 3
Volume 4
Volume 5
Volume 6
Volume 7
Volume 8
Volume 9
Volume 10
Volume 11
Volume 12
Volume 13
Volume 14
Volume 15
Volume 16
Volume 17
Volume 18
Volume 22
Volume 23
Volume 24
Volume 25
Volume 26
Volume 27
Volume 28
Volume 29
Volume 30
Volume 31
Volume 32
Volume 33
Volume 35
Volume 36
Jewelry Box
Other
References
See also