Manga
"She's not a bad person, my stepmom. She's suffering too. Because my father can't forget my mom."
Mirei Hase (馳 実玲, Hase Mirei) was the stepmother of Tenma and second wife of Kazuma. She deeply disapproved of Tenma's engagement to Oto Edogawa, which she thought was not beneficial to the Hases.
Biography
After the death of Miyoko Hase, Kazuma married his second wife, Mirei. She gained a stepson, Tenma, through the marriage.[1] Mirei disliked Tenma's engagement to Oto Edogawa, but honored his mother's request as long as she continued attending Eitoku Academy.[2] She presented Oto with clothes each month for her to wear on her dates with Tenma.[3]
When Tenma was injured in Kyoto, Mirei and her husband quickly flew in from Tokyo. She reiterated her disapproval of Tenma's engagement and blamed Oto for him getting hurt, despite it being an accident. Mirei said "If he wasn't dating her, this never would have happened!"[4] She and Kazuma returned to Tokyo a few days later, leaving Tenma to recover in Kyoto.[5]
Several months later, Oto's mother contacted the Hases about ending the engagement. Mirei was presumably happy but her husband arranged a meeting to discuss it.[6] During the meeting, she interjected several times with overcritical statements.[7] Kazuma eventually yelled at her "Stay out of this!" Once the matter was settled, he apologized to her for "[making her] suffer because of [his] selfishness" since the engagement was the last remnant of his first wife.[8]
Physical appearance
Mirei was a middle-aged woman with long, dark hair. She had a nice face with simple features. As a rich woman, she dressed in fancy, elegant clothes, such as a blazer paired with a skirt, and scarf.
Personality and traits
Despite not liking his engagement to Oto, Mirei still loved her stepson Tenma and treated him like he was her own son. She was incredibly rude to Oto, even blaming Tenma's accident on her. Mirei was insecure about her marriage since her husband was still mourning his first wife.
Behind the scenes
Character notes
Portrayals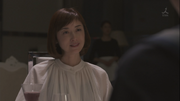 She is renamed Rie and is played by Saki Takaoka in Hana Nochi Hare (2018).[9] Her role is expanded to that of an antagonist similar to Kaede Domyoji. Unlike in the manga, Rie eventually realizes why she dislikes Oto and accepts her as Tenma's fiancée.
Appearances
References
See also