Taiwan

Japan

S. Korea

China

Thailand
"I do not wish to rely on the fruit of my parents' labor. Instead, I would like to start afresh, relying only on my own abilities. I will not be taking over my parents' law firm. Because I want a life, where I am able to experience more in a wider world."
—Seo-hyun's decision to return to France
Min Seo-hyun (Hangul: 민서현 ) was the heiress of a large law firm. She was a childhood friend of the F4. Seo-hyun was particularly close to Yoon Ji-hoo, whom she later dated. She studied abroad in France for some years. Deciding not to inherit her parents' law firm, Seo-hyun returned to France to become a lawyer on her own.
Biography
Early life
Seo-hyun was born on December 21, 1985[1] as the sole heiress of Korea's largest law firm.[2] She became friends with the F4, when they were young children. Seo-hyun helped Yoon Ji-hoo "out of his shell" after his parents passed away in a car accident.[3]
College
After graduating from Shinhwa School, she went to study abroad in Paris, France. There she studied for the bar exam and eventually passed. Seo-hyun also worked as a model during this time. She donated the money she received for her modeling job. For her vacations, Seo-hyun visited places in Africa, Afghanistan, and Tibet.[3]
Return to Seoul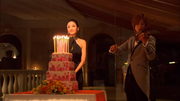 "To me, when a person tries to decide what to do, it's similar to buying something in a foreign country. If you don't buy it at that very moment, then there's no second chance. I know very well how agonizing that regret is."
—Seo-hyun explains her decision to Jan-di
When Seo-hyun returned home, Ji-hoo greeted her at the airport and brought her to her welcome back party. There a trio of girls embarrassed Geum Jan-di. Seo-hyun and Ji-hoo quickly came to her rescue. She then brought Jan-di to her room, where she gave her a make-over. Back to the party, she encouraged Ji-hoo to dance with Jan-di.[3] Sometime later, Seo-hyun held her twenty-third birthday party. There she announced that she was returning to France and that she would not take over her parents' law firm. She then went to talk to a hurt Ji-hoo. Seo-hyun revealed that their feelings were mutual. Ji-hoo kissed her after making his frustrations clear. Two days later, she went to Shinhwa and ran into Jan-di. She begged Seo-hyun to stay for Ji-hoo's sake. Though she teared up, Seo-hyun expressed that she did not want to regret anything and was leaving for that reason.[1]
The following day, Seo-hyun said goodbye to So Yi-jung, Song Woo-bin, Gu Jun-pyo, and Jan-di. To Jan-di, she told her to remember her request to make Ji-hoo smile. As she walked to the gate, Seo-hyun continued looking for Ji-hoo.[4]
Physical appearance
Considered extremely beautiful by the populace, Seo-hyun was an in-demand model in South Korea. Her face graced magazines, television, and other advertisements. Jan-di called Seo-hyun as a "goddess" for her good looks and kindness. Her hair was long and dark brown with black tones. She frequently styled her hair in a half-up manner. Seo-hyun, whom loved fashion, wore the latest style at the time. She had a particular love for shoes, which she liked to think would take her to "good places."
Personality and traits
Seo-hyun was noted for having both beauty and brains. She studied to become a lawyer and passed the bar exam in a foreign country. Additionally, she was naturally kind and thoughtful. For these reasons, Seo-hyun gained the admiration of many people and made friends relatively quickly. Unlike her peers, Seo-hyun desired setting out on her and making her own path instead of relying on her parents. Once she made a decision, she was not easily swayed for anyone or anything. Her love for Ji-hoo, for example, was no match for the possible regret she may have experienced had she decided to stay in South Korea.
Behind the scenes
Portrayal
See also: Category:Shizuka Todo portrayals
Appearances
References
See also