Miho (美穂, Miho) was the ex-girlfriend of Hatta. She believed that Sakurako Sanjo stole him away from her. One night, she enlisted her friends in helping her confront Sakurako which completely backfired on her.
Biography
Miho was a young girl that frequented night clubs with friends. She had a boyfriend named Hatta, who left her for Sakurako Sanjo. Miho asked her friends to confront Sakurako while they were at Joliana. Sakurako insulted Miho as well as Hatta, eventually reducing the girl to tears. Her friends then shuffled Miho away.[1]
Physical appearance
She had a unique hairstyle similar to Yuriko Asai's. Her bangs were teased half-up with the rest hanging down her forehead. Miho dressed in the typical club fashion, such as a tight-fitting dress that revealed her cleavage and much of her back. She also wore a lot of makeup.
Personality and traits
Miho was a strong person, relying on her friends to confront Sakurako. However, she did speak up when she was insulted though she was unable to think of a strong comeback. In the end, she was quick to tears when Sakurako criticized her for not being able to keep Hatta.
Behind the scenes
Character notes
Portrayals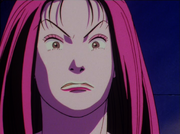 In the Boys Over Flowers anime (1996), Miho is shown to be less passive. Though her friend intially confronts Sakurako, Miho quickly becomes the primary accuser. She, nevertheless, still ends up bursting into tears at Sakurako's criticisms. Naoko Okada voices her in the episode, "Sakurako's Secret."
Appearances
Boys Over Flowers
Volume 1
Volume 2
Volume 3
Volume 4
Volume 6
Volume 7
Volume 8
Volume 9
Volume 10
Volume 11
Volume 12
Volume 13
Volume 14
Volume 15
Volume 16
Volume 17
Volume 18
Volume 19
Volume 20
Volume 21
Volume 22
Volume 23
Volume 24
Volume 25
Volume 26
Volume 27
Volume 28
Volume 29
Volume 30
Volume 31
Volume 32
Volume 33
Volume 34
Volume 35
Volume 36
Jewelry Box
Other
Boys Over Flowers (anime)
1
2
3
4
5
6
7
8
9
10
11
12
13
14
15
16
17
18
(Debut)
(Flashback only)
19
20
21
22
23
24
25
26
27
28
29
30
31
32
33
34
35
36
37
38
39
40
41
42
43
44
45
46
47
48
49
50
51
References
See also