Meteor Rain (Chinese: 流星雨; pinyin: Liúxīng Yǔ) is a side series to the Taiwanese drama, Meteor Garden (2001).[1] It was partially based on Boys Over Flowers by Yoko Kamio. The drama was directed by Tsai Yueh Hsun and produced by Angie Chai.[2] It aired in late 2001 and early 2002 on CTS for four episodes, each focusing on a different F4 member.
The series stars Jerry Yan, Ken Chu, Vanness Wu, and Vic Chou, whom had formed the band F4 due to the first series' popularity. Meteor Rain served as a tie-in for their debut album.[3] Rainie Yang also reprised her role.[4] It was released on DVD in the United States by YA Entertainment.[5] Meteor Rain was followed by Meteor Garden II (2002).
The first episode follows Mei Zuo (Wu) and his new friend, whom he meets when she pickpockets him. In the second story, Xiao You (Yang) returns to Taiwan to help Xi Men (Chu) come to terms with his first love. The final two episodes show a teenage Dao Ming Si running from the police and then befriending a father and daughter.
Summary
Mei Zuo's story
Mei Zuo (Vanness Wu) is pick-pocketed by Aisa (Aisa Senda), a Japanese girl searching for her grandmother in Taiwan. Later, Mei Zuo sees Aisa again and threatens to take her to the police. She convinces him not to by making up a lie about a sick relative. After figuring out that she lied, Mei Zuo tracks her down and she finally tells him the truth. He promises to help find her grandmother and later learns that she died, which he does not pass on to Aisa at first. After agreeing to enter a dance contest with her, he eventually builds up the confidence to relate the sad news. The same night, Aisa's mother (Billie Wang) comes from Japan to find her daughter. Aisa dances at the contest with her mother and agrees to return home with her. Before leaving, she briefly kisses Mei Zuo.[6]
Xi Men's story
Xiao You (Rainie Yang) returns from Canada to see Xi Men (Ken Chu). He is happy to see her at first, but acts coldly towards her later that night. She clearly states her feelings to him, which causes him to launch into a story of his first love. In a flashback, Xi Men is hanging out with his childhood friend, Xiao Geng (Pally Chien), when he receives a call from another girl. Xiao Geng later asks him to meet her at a certain building at five am. He does not show up and she waits for him at his home to tell him "goodbye". After hearing the story, Xiao You searches buildings every night, until she finds the same one. She brings Xi Men to show him what Xiao Geng wanted him to see. In the distance, the sun's glare allows a billboard to be read as "Xi Men, my love".[7]
Dao Ming Si's story
Dao Ming Si (Jerry Yan) badly injures a politician's son in a brawl. He refuses to allow his mother to "fix" the situation and sneaks onto a train. The police catch up with him, so he jumps off the train and hurts his leg. A child, Xin Xin (Peng Xin) finds him passed out on the beach. Her father, Ah Yuan (Qu Zhong Heng) brings him to their house and treats his injured leg. Si wakes up after two days and immediately makes plans to leave. However, Xin Xin, who refuses to talk, mimes that she wants him to stay. Ah Yuan tells him to stay for a few more days. Si quickly becomes close to the father and daughter. One day, Ah Yuan goes to work and reads an article about Si in a newspaper.[8]
Later, Ah Yuan tries to entice Xin Xin to talk. He yells at her, when she nearly lets him drown in the ocean. He then confesses to Si that she is not his real daughter. Ah Yuan saved her from an abusive father about a year earlier, and he laments that the law views him as a kidnapper. They go look for Xin Xin, finally finding her in her playhouse. After Ah Yuan apologizes to Xin Xin for yelling, Si walks to town to phone for money to give them. Si is seen by the police, but makes it home. Ah Yuan decides to flee with his daughter, but promises to meet Si later. The police place Si in jail for several days. He is eventually let out and rushes to meet his friends. At the same time, the police find Ah Yuan and take Xin Xin away from him. Si arrives at their house and watches a meteor shower, while waiting.[9]
Cast and characters
Staff
Original work: Boys Over Flowers by Yoko Kamio
Producers: Angie Chai, Jerry Feng, Wu Zhi Qiang
Screenplay: Angie Chai, Jerry Feng, Sharon Mao
Planning: Yang Jia Yu
Director: Tsai Yueh Hsun
Executive producer: Wang Chuan Ren
Deputy director: Chen Bi Zhen
Editing: Wang Zuo Qun
Recording: Wan Wan
Production: Lu Shu Juan, Yang Yuan Ren, Cao Jing Xiang
Cinematography: Lin Qing Fang, Lin Wen Kai
Lighting: Wang Li Da
Episodes
Notice
There are two different cuts of Meteor Rain. The 4 episode count is believed to be the official version, though a 3 episode cut is also common.
Episode 1 | 2 | 3 | 4
Production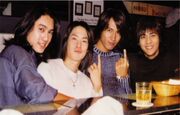 Following the success of Meteor Garden (2001), CTS began planning a sequel with Tsai Yueh Hsun to direct. Due to the manga still being published, it was determined to make Meteor Rain partially an original story. Barbie Hsu was excluded from the series since it mostly takes place before Meteor Garden.[12] Filming was delayed by Typhoon Nari in mid-September 2001. Cabins built by the crew at Baisha Bay for Jerry Yan's episode were destroyed by the storm.[13]
Broadcast
Meteor Rain premiered on September 13, 2001 on CTS. It aired on Thursdays at 9:30.[14] The first episode was replayed the following week on September 20, due to a typhoon.[13] Episode two of the series aired on September 27.[15] The final two episodes began airing on January 10, 2002, replacing Peach Girl.[16]
Home media
Meteor Rain has been released on various home media formats in several countries. It also received a rare United States release by YA Entertainment in 2005.[5]
Music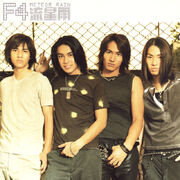 Jerry Yan, Vic Chou, Vanness Wu, and Ken Chu formed the F4, after the success of Meteor Garden. They released their debut album, also titled Meteor Rain, on August 28, 2001.[17] The album's title track, "Liu Xing Yu" ("Meteor Rain") served as the series' theme song. Wu's "Ni Bu Ai Wo Ai Shui" and Chu's "Here We Are" were also featured on the show.
Meteor Rain was named one of the "Top 10 Selling Mandarin Albums of the Year" in 2002 by the Hong Kong branch of IFPI.[18]
Gallery
Boys Over Flowers Wiki has a collection of images on this topic. (view gallery)
Boys Over Flowers Wiki has a collection of screenshots on this topic. (view category)
Notes
References
See also
External links