Meteor Garden and F4 World Exhibit ( 流星花園・F4 World 展時代は華流(ファーリュー)へ!, 流星花園・F4 World 展時代は華流(ファーリュー)へ!) was a series of exhibitions first held at Parco Museum in Shibuya, Tokyo. The event was held from March 11 to 28, 2005. It featured various photos, costumes, and objects related to Meteor Garden and the Taiwanese boy band F4.[1] The exhibit was held all over Japan during 2005 and returned once the following year.[2]
Background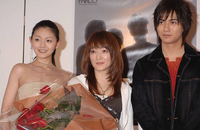 On March 10, 2005, a press call for the event was held at Parco Museum. It was attended by Boys Over Flowers author Yoko Kamio, Meteor Garden stars Barbie Hsu and Vic Chou, and producer Angie Chai.[3] The next day, a fan meeting to promote Mars airing in Japan was held. Chou and Hsu were present along with Megan Lai, and Shone An.[4] Ken Chu and Vanness Wu visited Japan at later dates to promote the exhibit.[5] Meteor Garden and F4 World Exhibit was held in a total of nine cities, including Osaka and Hiroshima.[2][6]
Exhibits
Staff
Features
The exhibit was split into four areas:
Drama area: An emphasis on Meteor Garden was given in this area. Costumes for F4 and other props were put on display from the drama as well as Meteor Rain and Meteor Garden II. A drama and manga comparison and a video of special scenes were also viewable.

The area also served as an introduction to other dramas starring F4, including Love Scar, Come to My Place, and Poor Prince.
A special prop from Mars was also featured to promote its airing in Japan in April 2005.

Film area: Promoted F4's move to the silver screen. Films featured in this area were Magic Kitchen, Sky of Love, and Star Runner.
Music area: A corner which showcased the F4's music, including the album Meteor Rain. There was also a screening of F4's Fantasy 4ever concert video.
Advertising area: This area exhibited F4's commercial campaigns that were not seen in Japan before. It included their Yamaha Motors and Pepsi campaigns among others.
Campaign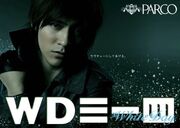 Parco Museum held a special White Day campaign from March 4 to 14, 2005. The first fifty customers to spend over ten thousand yen at any Parco shop was awarded a poster of Vic Chou. The posters were specially comissioned for the event by Parco.[4][7]
Gallery
References
See also
External links