Meteor Garden Photo Album (流星花園完全擁有F4)[4] is a photo book about the 2001 drama Meteor Garden, focusing particularly on the actors who portrayed the F4. The book was first announced in July 2001.[5] It was published in September 2001[6] and was later translated into Japanese in 2005.[7] It sold over 100,000 copies, setting a record in Taiwan.[8][9]
Contents
The book opens with a short summary of the beginning of Meteor Garden, followed by a selection of behind the scenes photos. The rest of the book is broken into four sections for the members of the F4, portrayed by Jerry Yan, Vic Chou, Ken Chu, and Vanness Wu. Finally, at the end, several more photos from offstage are included.
The Japanese edition was significantly changed, adding some photos while removing others. Boys Over Flowers creator Yoko Kamio contributed a poster and a special message. Also included was a scene comparison between the original manga and Meteor Garden.[2]
Character appearances
(Picture(s) only):
(Mentioned):
Editions
Notes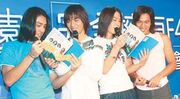 On September 1, 2001, a book signing event was held in Taipei, Taiwan. Over 2,000 fans were there to meet the F4.[11]
Si and Xi Men are listed with their Japanese names, while Lei's name is spelled 花澤 類 and Mei Zuo's 美作 玲. In the foreword, Shan Cai's family name is referred to as 牧野 which is her manga counterpart's name. Additionally, the F4's names in English are listed (i.e. Doumyouji Tsukasa, etc.).
References
See also