Meteor Garden II (Chinese: 流星花園II; pinyin: Liúxīng Huāyuán II) is a sequel to the hit Taiwanese drama, Meteor Garden. Unlike the first series, the sequel is an original story and is not based on the manga, Boys Over Flowers by Yoko Kamio. It was produced by Angie Chai.[1] The series aired on CTS in 2002[2] for thirty-one episodes.[3]
After Meteor Garden's premiere in 2001, Jerry Yan, Vic Chou, Ken Chu, and Vanness Wu formed the Mandopop group F4,[4] and performed the two theme songs of the sequel.[5] Meteor Garden II starred returning actors Barbie Hsu, Yan, Chou, Chu, and Wu with new addition Michelle Saram.[6]
Summary
Cast and characters
Staff
Producers: Angie Chai
Screenplay: Angie Chai, Sharon Mao, Mag Hsu, Zhou Ping Zhi
Directors: Wang Ming Tai, Jiang Feng Hong, Mai Da Jie, Zheng De Hua
Editing: Yang Shi Fan, Zheng Ya Yun, Cai Jia Han
Planning: Yang Jia Yu
Cinematographer: Lai Jun Hong
Overseas supervision: Yan Li Xue
Sound effects: Carrie Recording Workshop
Post-production: Long Jia Li
Wardrobe: Zhang Wei Jie, Zhong Feng Lan
Episodes
Main article: Meteor Garden II/Episodes
Episode 1 | 2 | 3 | 4 | 5 | 6 | 7 | 8 | 9 | 10 | 11 | 12 | 13 | 14 | 15 | 16 | 17 | 18 | 19 | 20 | 21 | 22 | 23 | 24 | 25 | 26
27 | 28 | 29 | 30 | 31
Production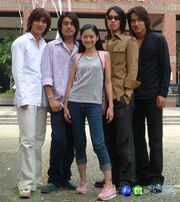 Meteor Garden II
was produced by
Angie Chai
, the original producer behind
Meteor Garden
(2001). The principal actors of the previous series returned to star,
[8]
and Singaporean actress
Michelle Saram
joined the main cast.
[9]
Shooting for
Meteor Garden II
commenced in April 2002. In July, the cast and crew completed filming in Spain. Production experienced several delays due to changing directors and the hectic schedule of
F4
.
[10]
[11]
Filming was suspended again in September 2002, when
Barbie Hsu's
and several others contracts expired.
[12]
Meteor Garden II premiered on November 11, 2002.[13] It was immediately met with a negative response from fans, who thought it was "bad" compared to the original manga.[14] Saram's character Ye Sha was a particular bone of contention among audiences.[15] The sequel's ratings were significantly lower than those of Meteor Garden. Due to the audience reaction, Chai prepared two separate endings for the show.[16]
Home media
Cover
Release date
Contents
Malaysia (DVD)
February 12, 2008[17]

Set details

8-disc set
Languages: Mandarin
Subtitles: Chinese, English, Malay
Music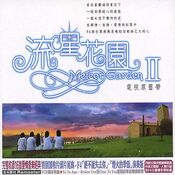 Main article: Meteor Garden II Original Soundtrack
"Jue Bu Neng Shi Qu Ni" ("Can't Lose You"), performed by F4, served as the series opening theme. It was met with a warm response by viewers, who compared it to "Liu Xing Yu".[18] F4's "Yan Huo De Ji Jie" ("Season of Fireworks") was the ending theme. Both songs were included on the soundtrack released on December 18, 2002.[19]
Gallery
Boys Over Flowers Wiki has a collection of images on this topic. (view gallery)
References
See also
External links
Community content is available under
CC-BY-SA
unless otherwise noted.