Meteor Garden is a 2018 Chinese drama based on the Japanese manga Boys Over Flowers. Unlike previous adaptations, the series premiered globally on Netflix with some exceptions. It has also been dubbed in other languages.
Streaming
Release
Netflix licensed Meteor Garden globally, excepting the Philippines, Thailand, and Indonesia. It premiered on the service with the first six episodes on July 13, 2018 in select countries, including the United States,[1] Hong Kong,[2] and Taiwan.[3] Other countries had later releases, such as South Korea on July 27, Japan on August 2, Denmark and Sweden on August 15. Most other regions received access starting on August 9, except for Arabic-speaking regions whom got it on September 4.[4]
PD Digital designed the conceptual key artwork for Meteor Garden and localized the logo for over twenty countries.[5]
Year
Date
Country[6]
Title
Notes
2018
July 13
Australia
Meteor Garden
Bangladesh
[7]
Canada
Meteor Garden
Hong Kong
流星花園
India
Meteor Garden
[8]
Ireland
Meteor Garden
[9]
Israel
[10]
New Zealand
Meteor Garden
Russia
Сад падающих звёзд
[11]
Singapore
Meteor Garden
[12]
South Africa
Meteor Garden
[13]
Taiwan
流星花園
United Kingdom
Meteor Garden
United States
Meteor Garden
Vietnam
Vườn sao băng
July 27
South Korea
유성화원
August 2
Japan
流星花園2018
August 9
Argentina
Jardín de Meteoros
[14]
Belgium
Colombia
Jardín de Meteoros
Costa Rica
Jardín de Meteoros
[15]
Finland
Meteor Garden
[16]
France
Le jardin des météores
[17]
Germany
Meteor Garden
Mexico
Jardín de Meteoros
[18]
Netherlands
Meteor Garden
[19]
Peru
Jardín de Meteoros
Spain
Jardín de Meteoros
[20]
Switzerland
Meteor Garden
[21]
August 10
Italy
Meteor Garden
[22]
Portugal
Meteor Garden
[23]
August 11
Brazil
Jardim de Meteoros
[24]
August 15
Sweden
Meteor Garden
Denmark
Meteor Garden
August 17
Norway
Meteor Garden
[25]
Promotional photos
Indonesia
Broadcast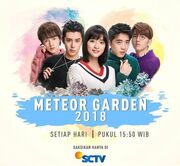 SCTV obtained the broadcast rights to Meteor Garden for Indonesia. It began airing on the channel on September 3, 2018.[26][27] Viu has the streaming rights to Meteor Garden and premiered it on July 16, 2018.[28]
| Year | Network | Timeslot |
| --- | --- | --- |
| 2018 | SCTV | Monday to Sunday at 4:00 PM |
Dubbing cast
Videos
Philippines
Broadcast
In November 2017, Meteor Garden was licensed for broadcast by ABS-CBN, who also aired the original.[30] It began airing in the Philippines on August 20, 2018 with a Tagalog dub.[31][32] The series was briefly re-aired in May 2020[33] until ABS-CBN was forced to cease operations.[34] It resumed on June 15, 2020 on the Kapamilya Channel.[35]
Dubbing cast and credits
Cast[36]
Staff[36]
Executive in charge of integrated acquisitions: Macie F. Imperial
Head of integrated acquisitions: Rachel Simon-Palomar
Operations head, integrated acquisitions & ISD: Rissa Afable-Calinawan
Dubbing director: Daisy May Cariño[39]
Translators: Zalve Astor, Davene Brillantes, Hazel Hernan, Sam Hernan, Karen Mendoza
Tagalized script consultant: Jurey P. Mirafuentes
Dubbing coordinators: Ranni C. Guevara, Charilou Fusana-Bellen
Acquisitions producer: Jenny B. Canales
Master editor: Robbie Maneja
Production assistant: Fredrex Sta. Maria
Content researchers: Cecille Sumabat, Aika Paulino
Promo account manager: Katrina Sanchez
Promo specialist: Christer Salire
Promo producer: Rizza Cervantes
Additional music by: Lennel Diaz
Audio engineers: Ernani Tusi, Norman Buena, Jayson Boragay, Emman Advincula
Thailand
Broadcast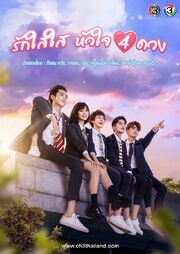 Meteor Garden was broadcast as Rak Sai Sai Huachai 4 Duang (รักใสใสหัวใจ 4 ดวง), also shortened to F4, on Channel 3. Starting on August 7, 2019,[40] it aired Monday to Friday at 12:50 PM with reruns on Channel 33 at 3:00 AM.[41] Meteor Garden was rebroadcast on Channel 3 from Monday to Sunday, starting on May 11, 2022.[42]
Year
Network
Timeslot
2019
Channel 3
Monday to Friday at 12:50 PM
2022
Channel 3
Monday to Friday at 2:50 PM
Saturday at 3:25 PM
Sunday at 2:55 PM
References
See also