Meteor Garden (Chinese: 流星花园; pinyin: Liúxīng Huāyuán) is a Chinese remake of the 2001 series of the same name. It is also an adaptation of Yoko Kamio's manga Boys Over Flowers.[3][4] The series was first announced in April 2017 by Angie Chai, who produced the original Meteor Garden.[5] It was directed by Chai's long-time collaborator Lin He Long.[6]
The series starred Shen Yue as Dong Shan Cai with Dylan Wang, Darren Chen, Connor Leong, and Caesar Wu as the F4.[7] Meteor Garden premiered on July 9, 2018 on Hunan Television.[8] It was aired from Monday to Wednesday until its conclusion on August 29, 2018.[9][10] The series was broadcast globally by Netflix as one of their "Originals."[11]
Shan Cai (Yue) begins attending Ming De University and has her life turned upside down when she stands up to the arrogant leader of the F4, Dao Ming Si (Wang). He develops feelings for her, which makes things complicated since she has a crush on his friend, Hua Ze Lei (Chen). Shan Cai and Si then experience several ups-and-downs together.
Summary
Eighteen-year-old Dong Shan Cai (Shen Yue) enters into the Nutrition Department of Ming De University, her dream school. One day, Shan Cai's friend Li Zhen (Dong Xin) accidentally drops a cake on Dao Ming Si (Dylan Wang), leader of the F4. The F4 is talented group of bridge players made up of Si, Hua Ze Lei (Darren Chen), Feng Mei Zuo (Connor Leong), and Xi Men Yan (Caesar Wu). Shan Cai stands up to him for not accepting her friend's apology. Afterwards, Si sends her a Joker card and begins bullying her at school. He later orders food from her family's business and throws it at her, when she calls him a "parasite". Outside, Lei saves Shan Cai from being assaulted by two guys. The events of the last few days finally gets to Shan Cai. At school, she confronts Si by kicking him in the face, which knocks him out. She declares that she will not be bullied by anyone.[12]
Later, Si asks Shan Cai to be his girlfriend and she replies "I will never date a narcissist like you". Two days later, Lei's first love Teng Tang Jing (Sun Yi Han) comes back to Shanghai. Depressed, Shan Cai spends more time with her best friend, Chen Qing He (Liu Yin Hao). Si becomes jealous and bullies Shan Cai. When Lei swoops in to save her, Si ends his friendship with him.[13] Shan Cai develops a fever due to stress. Si visits her to invite her to Hawaii on vacation, which she rejects. She and Qing He drive to Sanya, where they are met by Si's yacht. That night, Shan Cai accidentally kisses Si at his party. Qing He later confronts Si and challenges him to a round of fishing. At the same time, Shan Cai witnesses Lei confessing his love to Jing.[14]
Back at school, Shan Cai meets Lei on the school's rooftop. Jiang Bai He (Wang Zi Zhen) and Li Xin Hui (An Zi Yi) secretly tape them and show the video to Si. Shan Cai later returns to the roof, where she finds an angry Si. He grabs her wrists and forces a kiss on her. Si finally stops when she starts to cry. Shan Cai later attends Jing's birthday party.[15] Jing surprises everyone by announcing her plans to return to France. Lei becomes depressed by the prospect of her imminent departure. Shan Cai tries to convince Jing to stay for Lei's sake. At the airport, everyone, except Lei, says goodbye to Jing. A minute later, Lei reveals that he is going after her and thanks Shan Cai for encouraging him. Si asks Shan Cai on a date, but she does not hear him over the planes.[16]
Shan Cai loses a card game to Si, who tells her to treat him to dinner. She shows up hours late, having decided to go at the last second. While searching for shelter, they are trapped in an elevator and spend the night together. At school, Bai He and Xin Hui think they are dating and invite Shan Cai and Li Zhen dancing. Shan Cai meets Thomas, whom she mistakes for Lei. The next morning, she wakes up in a hotel.[17] Thomas later explains that nothing happened between them. However, a photo of Shan Cai and Thomas in bed begins circulating. After Si sees it, Shan Cai asks him to trust her. Si does not believe her until he has a epiphany a day later. He goes to her work and saves her from being assaulted by two guys. Xi Men and Mei Zuo later discover that Li Zhen was behind posting the photo. Shan Cai is hurt that her friend would stab her in the back.[18]
Cast and characters
Staff
Original work: Boys Over Flowers by Yoko Kamio
Producers: Angie Chai,[21] Adam Tsuei,[22] Daniel Zhang, Wang Ke, Lu Xiao Jia, Liu Hong Xia
Executive producers: Lu Huan Bin, Xiao Jing, Wang Peng, Cheng Wu, William Kong, Wang Xiao Fei, Jiang De Tian
Screenplay: Sharon Mao[3]
Director: Lin He Long, Xu Fu Xiang
Voice dubbing: Zhang Qi, Sun Ye, Zhong Wei, Zhao Lu, Xu Xiang, Chen Yi Wen, Liu Sheng Bo, Yang Meng Lu, Wu Di, Jiang Shu Fei, Jia Qiu, Cao Zhen, Xu Hui, Liang Shuang, Jiang Yu Ling, Lin Min, Ma Yang, Zhong Ke, Liu Bei Chen , Xu Zhan Zhe, Wang Ying Ying
Episodes
Main article: Meteor Garden (2018 drama)/Episodes
Notice
There are two official cuts of Meteor Garden (2018), the original TV version and the DVD (Netflix) version. This wiki currently goes by the DVD cut as it is currently more accessible worldwide.
Episode 1 | 2 | 3 | 4 | 5 | 6 | 7 | 8 | 9 | 10 | 11 | 12 | 13 | 14 | 15 | 16 | 17 | 18 | 19 | 20 | 21 | 22 | 23 | 24 | 25 | 26
27 | 28 | 29 | 30 | 31 | 32 | 33 | 34 | 35 | 36 | 37 | 38 | 39 | 40 | 41 | 42 | 43 | 44 | 45 | 46 | 47 | 48 | 49
Production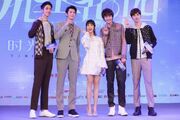 In April 2017,
Angie Chai
announced the remake of
Meteor Garden
, which she produced in 2001. Prior to the announcement,
Barbie Hsu
hinted at the news on her
Weibo
account.
[5]
Chai voiced her intentions on making the remake a "fuller—and flashier–adaptation of the
books
."
[4]
The drama was budgeted at 720 million New Taiwan dollars (about US$24 million) with 15 million per episode, about thirty times higher than the original.
[5]
A casting call was announced on social media on June 21, 2017 with a video and the topic tag, "#FindingF4#."[23] On November 7, 2017, the actors playing the F4 were revealed, namely Dylan Wang (Dao Ming Si), Darren Chen (Hua Ze Lei), Connor Leong (Feng Mei Zuo), and Caesar Wu (Xi Men Yan). The announcement was made through an exclusive photo spread in Harper's Bazaar China.[24][25] Shen Yue's role as the female lead, Dong Shan Cai, was unveiled at a press conference in Shanghai on November 9.[7]
In February 2018, director Lin He Long was announced as the replacement for Xu Fu Xiang, who left due to creative differences. Lin previously worked with Angie Chai on Devil Beside You and Corner with Love.[6] The following morning, production completed filming in China and began shooting on location in London, England.[26][27] Filming officially concluded on March 22 and Chai began the post-production process shortly after.[28]
Broadcast
Meteor Garden was broadcast on Hunan Television in China, starting on July 9, 2018. Two episodes aired a day from Monday to Wednesday at 22:00. The series is also available on Hunan's streaming service, Mango TV.[9] It was licensed in the Philippines by ABS-CBN, who also aired the original, in November 2017.[29] It began airing in the Philippines on August 20, 2018.[30] In Indonesia, SCTV[31] and streaming service Viu has the rights to the show.[32] Netflix licensed the series globally,[33] excluding the Philippines, Thailand, and Indonesia.[34] The first six episodes premiered on Netflix on July 13, 2018.[35] Netflix released the series in Korea on July 27 and in Japan on August 2.[34]
Promotion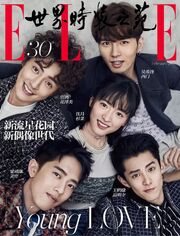 In November 2017, the F4 actors appeared on the cover of Men's Uno Young.[36] Yue joined Wang, Chen, Leong, and Wu on the cover of Elle China's online edition of their February 2018 issue. They filmed an short video for SuperElle in collaboration with Chanel.[37] The F4 actors also appeared in InStyle in February 2018.[38] Promotional photos for the main cast were officially revealed in mid-February on Weibo.[39] The cast of Meteor Garden appeared again in Men's Uno Young! in April.[40]
A trailer and a new poster for Meteor Garden were released on May 24, 2018.[41] Later in May, Yue, Wang, Chen, Wu, and Leong appeared together in the variety show, Happy Camp.[42] The final poster, bearing the July 9th premiere date, was unveiled in late June.[9]
Music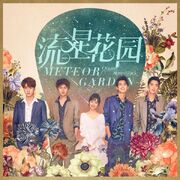 Main article: Meteor Garden Original Soundtrack (2018 album)
"For You", performed by Wang, Chen, Leong, and Wu, served as the series' opening theme song. It was first released on July 9, 2018, the same day Meteor Garden premiered.[43] Singer Kiki Wei (魏奇奇) performed the ending song, titled "Ai, Cun Zai" (爱,存在; "Love Exists").[44]
Harlem Yu's "Qing Fei De Yi" ("Can't Help Falling for You"), the opening theme of the original series, is featured in the series.[45] Penny Tai also rearranged "Ni Yao De Ai" ("The Love You Want"), which previously served as the ending for the original series. Tai performed two different versions for the remake.[46]
Reception
Ratings
Episode
CSM52 City Network
CSM National Network
Ratings
Audience share
Ranking
Ratings
Audience share
Ranking
1-2
1.126%
8.04%
4
1.11%
9.68%
3
3-4
1.032%
7.023%
4
1.11%
9.03%
4
5-6
0.991%
6.731%
5
1.12%
8.85%
4
7-8
0.931%
7.045%
6
1.1%
9.77%
3
9-10
0.919%
6.803%
8
1.12%
9.57%
4
11-12
0.983%
7.254%
8
0.97%
8.71%
4
13-14
0.922%
6.42%
9
1.12%
9.24%
4
15-16
0.861%
6.726%
9
0.97%
9.07%
5
17-18
0.893%
6.571%
8
1.09%
9.76%
4
19-20
0.969%
7.042%
8
0.99%
8.6%
3
21-22
0.916%
6.876%
6
1%
8.92%
4
23-24
0.914%
6.792%
5
1.09%
9.31%
4
25-26
0.872%
6.584%
6
0.81%
7.21%
5
27-28
0.824%
6.46%
7
0.89%
8.07%
4
29-30
0.781%
6.058%
7
0.92%
7.92%
4
31-32
0.792%
6.027%
6
0.97%
8.61%
4
33-34
0.756%
5.808%
7
0.84%
7.59%
5
35-36
0.749%
5.771%
5
0.78%
7.22%
4
37-38
0.669%
5.325%
6
0.72%
6.66%
4
39-40
0.751%
5.879%
3
0.77%
7.31%
3
41-42
0.709%
5.595%
3
0.69%
6.33%
3
43-44
0.592%
4.336%
7
0.57%
5.1%
5
45-46
0.713%
5.694%
7
0.61%
6.09%
3
47-48
0.586%
4.658%
4
0.6%
5.95%
4
49-50
0.707%
5.554%
8
0.6%
5.7%
4
Average rating
0.841%
6.32%
—
0.9%
8%
—
Adapted from Wikipedia, Chinese Wikipedia
Accolades
Recipient
Category
Result
Source
Golden Oak Awards
Meteor Garden
Excellent TV Drama
Won
[47]
Gallery
Boys Over Flowers Wiki has a collection of images on this topic. (view gallery)
Videos
Notes
References
See also
v - e - dMeteor Garden (2018)
Further reading
External links
Community content is available under
CC-BY-SA
unless otherwise noted.