Meteor Garden is a Taiwanese drama based on the Japanese manga, Boys Over Flowers. It was followed by Meteor Rain and Meteor Garden II. The series and its sequels have been translated and dubbed in different languages for broadcast and release around the world. Its popularity in Asian countries was dubbed "Meteor Garden Fever" or "F4 Fever."
China
Meteor Garden aired on various stations throughout China, starting in late 2001.[1] It performed particularly well in Chongqing, earning a 10.9% rating.[2] On March 8, 2002, the National Radio and Television Administration called for an immediate suspension after six episodes had aired, citing "that the decadent lifestyle portrayed by boy band 'F4' would corrupt young Chinese minds."[3][4][5]
Starting on October 14, 2008, Meteor Garden was rebroadcast on Xing Kong.[6] Xing Kong later reaired the drama, along with Hana Yori Dango and Boys Over Flowers.[7] Meteor Garden II also aired on the channel, starting on November 4, 2009.[8]
Year
Network
Timeslot
Meteor Garden
2008
Xing Kong
Meteor Garden II
2009
Xing Kong
Monday to Friday at 7:00 PM
Hong Kong
Broadcast
In 2002, Meteor Garden was broadcast on Hong Kong Cable Television.[9] The copyright was soon bought by Asia Television whom aired it on their channel, ATV Home. It first aired on ATV in August 2002 and has periodically been rebroadcast on the station. In 2009, The Unforgettable Memory was suddenly pulled by ATV and replaced with Meteor Garden.[10][11] A Cantonese dub was also produced for broadcast.[12]
Meteor Garden II has aired on TVB Jade.[13]
Dubbing cast
Indonesia
Broadcast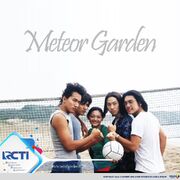 The series first aired in Indonesia on Indosiar for the 2001-2 season. Its huge success took the executives by surprise, leading to the series to be moved to a prime-time slot at 8:00 PM.[14] Meteor Garden averaged a 12% rating, which is about three million viewers. The drama was rebroadcast on Trans TV in 2002.[15] It aired on RCTI in 2017.[16][17]
Meteor Rain and Meteor Garden II have also aired on Indosiar.[15]
Year
Network
Timeslot
Meteor Garden
2001
Indosiar
Monday at 8:00 PM
2002
Trans TV
2017
RCTI
Monday to Friday 7:30 AM
Dubbing cast
Japan
Broadcast
In 2003, Meteor Garden aired in Japan as Ryusei Hanazono: Hana Yori Dango (流星花園〜花より男子〜, Ryusei Hanazono: Hana Yori Dango) on BS Nippon Television and CS Home Drama Channel.[22][23] The series was also broadcast locally on Tokyo MX and Chiba TV.[24] It re-aired on TBS with Japanese dubbing, starting on November 2, 2006.[25] Meteor Garden II has also aired in Japan.[26] The dub refers to the characters by their original manga names.[27]
In September 2016, an "uncut" twenty-eight episode version of Meteor Garden with Japanese subtitles aired on Asia Dramatic TV from Monday to Friday at 6:00 PM with replays at 2:30 AM.[28]
Year
Network
Timeslot
2003
BS Nippon Television
Saturday at 11:00 PM
CS Home Drama Channel
Sunday at 2:00 PM
2006
TBS
Monday, Tuesday, Thursday at 12:00 AM
2016
Asia Dramatic TV
Monday to Friday at 6:00 PM
Dubbing cast
Malaysia
In 2002, Meteor Garden aired in Malaysia[30] on NTV7.[31][32]
| Year | Network | Timeslot |
| --- | --- | --- |
| 2002 | NTV7 | |
Philippines
Broadcast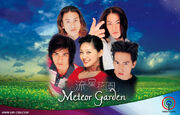 The drama first aired in the Philippines on ABS-CBN in May 2003. It was a huge hit, creating a "chinovela" (or "asianovela") craze in the country. Meteor Garden originally aired in a 3:30 PM timeslot before being moved to 5:30 PM by public demand. It was also rerun during weekend mornings. In 2005, ABS-CBN rebroadcast the series as Meteor Garden: The Full Version at 5:30 PM and was moved to 7:30 PM two weeks later.[33][34] GMA Network bought the copyright to broadcast the series, starting in July 2007.[35] It also aired on GMA's sister channel, QTV.[34]
In 2014, Meteor Garden returned to ABS-CBN on Kapamilya Gold. It hit an average 16.2% rating in its first week.[36] During the same time period, it was shown on Jeepney TV.[37][38] The now-defunct Asianovela Channel added Meteor Garden to its line-up in 2019.[39]
Meteor Rain aired on ABS-CBN in 2003, following Meteor Garden.[40] Meteor Garden II has also aired several times in the Philippines, usually accompanying Meteor Garden.
Dubbing cast and credits
Cast
Staff
Assistant dubbing director: Ryan Ang[51]
Singapore
Meteor Garden was broadcast in Singapore on Singapore Cable Vision, starting on July 8, 2001.[52] It later re-aired on Channel 8 in 2004.[53]
South Korea
Broadcast
In 2003, it aired in South Korea on MBC as Meteor Garden (유성화원).[54][55][56]
| Year | Network | Timeslot |
| --- | --- | --- |
| 2003 | MBC | |
Dubbing cast
Thailand
In 2004, Meteor Garden and Meteor Garden II aired on Channel 3 as Rak Sai Sai Huachai Sai Duang (รักใสใส หัวใจสี่ดวง). It was a hit in Thailand.[57][58]
Year
Network
Timeslot
Meteor Garden
2004
Channel 3
Friday to Sunday at 10:30 PM
Meteor Garden II
2004
Channel 3
References
See also