Meteor Garden (Chinese: 流星花園; pinyin: Liúxīng Huāyuán) is a Taiwanese drama based on the Japanese manga Boys Over Flowers by Yoko Kamio.[1] The series stars Barbie Hsu as Dong Shan Cai, who is bullied by the F4, played by Jerry Yan, Vic Chou, Vanness Wu, and Ken Chu.[2] It was directed by Tsai Yueh Hsun and produced by Angie Chai.[3]
The drama premiered on April 12, 2001[4] on CTS and was a huge success.[5] Barbie Hsu was nominated for a Golden Bell Award for her performance.[6] The drama was followed by a side story, Meteor Rain in 2001,[7] and a sequel, Meteor Garden II in 2002.[8] A Meteor Garden remake, also produced by Chai, was released in 2018.[9]
Dong Shan Cai (Hsu) is a lower-class student at the elite college, Ying De Academy. The school is controlled by the F4, a group of four rich boys. Shan Cai's life changes forever when she confronts F4's leader Dao Ming Si (Yan). He develops a crush on her, but she has feelings for his best friend, Hua Ze Lei (Chou).
Summary
Dong Shan Cai (Barbie Hsu) is a normal student at Ying De Academy, a college created by the four wealthy families of the F4. The F4 consists of Dao Ming Si (Jerry Yan), Hua Ze Lei (Vic Chou), Xi Men (Ken Chu), and Mei Zuo (Vanness Wu), who rule the school and are allowed to do whatever they wish. Shan Cai angers Si, the F4's leader, by standing up for her friend, Li Zhen (Ann Yeh). She is given a red notice, the F4's declaration of war, for her defiance. The other students begin to bully her, until she declares her own war on the F4. Si later sends two goons to scare her, but Lei saves her. Shan Cai punches Si for revenge. He starts to have feelings for her and arrogantly tries to get her to be his girlfriend. Shan Cai, however, states that she cannot be bought.[10]
Lei's first love Teng Tang Jing (Winnie Chien) returns from studying overseas in France. Meanwhile, Shan Cai's childhood friend Chen Qing He (Edward Ou) transfers to Ying De, making Si jealous. Qing He receives a red notice, and he and Shan Cai are chased around campus by several bullies. Lei saves her again, infuriating Si. The stress of the events makes Shan Cai sick.[11] Si visits her and offers to pay for her to go on the class trip, but she already has plans to go on a cruise with Qing He. They arrive at the ship to find that Si has bought it. At Jing's urging, they board the ship and attend that night's party. The night ends horribly, when Shan Cai accidentally kisses Si. Shan Cai later goes to return Jing's dress and eavesdrops on Lei confessing his feelings to Jing.[12]
Shan Cai attends Jing's birthday party with her best friend, Xiao You (Rainie Yang). Jing announces her plan to return to France. After seeing her off at the airport, Shan Cai yells at Lei to follow her, which he does. Si asks Shan Cai on a date, but she does not understand him at first. She arrives hours late and they argue, until they find themselves stuck in a stairwell. In the morning, someone snaps a photo of them leaving and posts it at school.[13] Bai He (Belinda Cheng) and Qian Hui (Zhang Ruo Zhen) now act nice towards Shan Cai and take her dancing. A DJ, Thomas finds Shan Cai passed out and takes her to a hotel. Photos of them going into the hotel are posted at school and the other students bully her again. Si initially believes that she slept with Thomas, but eventually comes to his senses. He then tells her that he loves her.[14]
Si begins to act like Shan Cai's boyfriend, before Lei comes back from France. The F4 and Shan Cai go on vacation to Okinawa. Shan Cai meets Lei that night and later lies about it to Si. The following night, Lei kisses her and Si sees them. He refuses to forgive Lei and starts to act unruly at home again. His sister, Dao Ming Zhuang (Mary Hsu) is called in to help him deal with his problems.[15] Si attempts to expel Shan Cai and Lei, but Zhuang interferes. She suggests that they play a basketball game to decide their fates. Si's team nearly wins the match, but he gives up at the last second. That night, Shan Cai and Lei end their relationship, while Si makes up his mind to join his parents in New York. Before he boards the plane, Lei tells him that Shan Cai actually likes Si.[16]
Back from New York, Si immediately visits Shan Cai and spends the night after her mother (Wang Yue) insists. Sometime later, Shan Cai's father (Dong Zhi Cheng) borrows one million dollars from a loan shark. Shan Cai gets the money from Si in order to pay the debt. She obtains a second part-time job to repay Si with the help of a new friend, Xiao Shun (Lin Zu En). Si quickly grows jealous of her new friend.[17] She is later kidnapped, after a red card is placed in her locker. One of her captors is Xiao Shun, who wants to avenge his friend. Si allows himself to be beaten by these guys in order to protect Shan Cai. After being discharged from the hospital, Si invites Shan Cai to his birthday party and plans to introduce her to his mother, Dao Ming Feng (Zhen Xiu Zhen).[18]
At Si's birthday party, Feng immediately identifies Shan Cai as lower-class and becomes angry with Si, who proclaims his feelings for her. Si then grabs Shan Cai and runs from the party. His mother later offers money to Shan Cai for her to stop seeing Si, however, her mother strongly declines. Feng's next move is to introduce Shan Cai to Si's new fiancée He Yuan Zi (Christine Ke). Shan Cai unwittingly becomes friends with Xiao Zi and decides to end things with Si.[19] He and Xiao Zi begin dating, though she often complains about him to Shan Cai. After several days, Si confesses to her that he does feel the same way. They break off their engagement, despite his mother's protests. Meanwhile, Shan Cai's parents move to a fishing village, leaving her behind.[20]
Feng buys Shan Cai's apartment complex and evicts her, before leaving for London. Si brings Shan Cai to his home, where she begins working as a maid. A couple nights later, Si asks her to be his girlfriend and she agrees, though on a trial basis of two months. Their relationship is tested, when they go on a double date with Xiao You and her boyfriend, Zhong Ze (Li Jie Sheng). After Si punches him, he stops contacting Xiao You.[21] She later sees him dating a different girl. Xi Men helps her get revenge on Zhong Ze by humiliating him. Xiao You and Xi Men then orchestrate an elaborate date for Si and Shan Cai, which almost works. Later that night, Feng returns and tries to kick Shan Cai out, but relents when Yu Sao (Angie Tang) threatens suicide.[22]
Si's mother hurts Shan Cai by going after the livelihoods of Xiao You's and Qing He's families. Shan Cai agrees to end things with Si and Feng reverses the damage. That night, Shan Cai breaks up with a heartbroken Si, before leaving Taipei. She joins her parents in the fishing village, while Si sinks back into his old self. In the town, Shan Cai befriends her coworker Ah Song (Wallace Chung), who is waiting for his girlfriend Ah Xiang (Beatrice Hsu) to return.[23] A few days later, Lei and Qing He arrive to bring her back home. Shan Cai goes back to school, but begins avoiding Si. He makes a "clean break" of their relationship and Lei begins to pursue her romantically. In actuality, Lei is only pretending to go after her to encourage Si to voice his true feelings.[24]
Satisfied that Si is allowing himself to feel again, Lei leaves to help his father in Japan. Shan Cai and Xiao Zi later go on a double blind date, where they meet Si's cousin Qing Yong (Blue Lan). Si becomes suspicious of him, but Shan Cai and Qing Yong become friends. He eventually reveals that he was hired by Feng to seduce her.[25] Despite being mad, Shan Cai stays friends with him, his real name being Ya Men. He tries to get her to forget about Si. However, Shan Cai decides to take another chance on love and returns to Si. They keep their relationship a secret at first. Around the same time, Xiao You confesses her feelings to Xi Men, who rejects her. When she persists, Xi Men takes her to a hotel to scare her. She then tells him that her family is moving to Canada.[26]
A few days later, Shan Cai and Si go on a date. All of Si's credit cards are rejected, which makes him worry that his mother is interfering again. After Si drops her home, a group of men kidnap him. His mother locks him in his room and starts to plan a wedding for him and Xiao Zi. Lei comes back to help Xi Men and Mei Zuo rescue Si. They reach his room, but are ultimately caught by Feng.[27] Shan Cai visits Si to convince him to eat, though she ends up joining his fast and waits for him outside. Si's sister yells at her mother for treating Si the same way she did to her years before. That night, Feng stays up thinking and leaves by morning. Si and Shan Cai are reunited, now without his mother's interference. Some time later, at Si's urging, she declares "I like you" and they embrace. They then pass by a street musician (Harlem Yu) playing "Qing Fei De Yi".[28]
Cast and characters
Staff
Original work: Boys Over Flowers by Yoko Kamio
Producers: Angie Chai, Jerry Feng, Wu Zhi Qiang
Screenplay: Angie Chai, Jerry Feng, Sharon Mao, Gong Min Hui
Planning: Yang Jia Yu
Director: Tsai Yueh Hsun
Executive producer: Li Tai Lin
Deputy director: Xie Xiao Fen
Production: Lu Shu Juan, Yang Yuan Ren, Lu Ying Shu, Chen Qin Win, Li En
Cinematography: Lin Qing Fang, Lin Wen Kai
Lighting: Wang Li Da
Editing: Zheng Ya Yun
Post production: Long Jia Li
Makeup: Lisa Alen
Stylist: Hong Mei Qi
Episodes
Main article: Meteor Garden/Episodes
Notice
There are several different cuts of Meteor Garden. Common cuts of either 20 or 27 episodes may be more accessible. However, this wiki goes by 19 episodes, which is believed to be the official count.
Episode 1 | 2 | 3 | 4 | 5 | 6 | 7 | 8 | 9 | 10 | 11 | 12 | 13 | 14 | 15 | 16 | 17 | 18 | 19
Production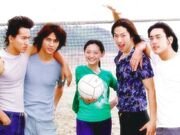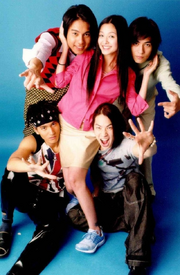 Meteor Garden
is the first
[29]
live-action television adaptation of the Japanese manga,
Boys Over Flowers
by
Yoko Kamio
. The series was produced by
Angie Chai
with the objective of creating a program for the Taiwanese youth.
[30]
Meteor Garden
was Chai's first television drama project. During production, she was told to "cut out unnecessary scenes to save on cost." She was, however, able to secure funding for the scenes.
[4]
Filming officially began on March 4, 2001.
[31]
The school scenes were shot at
National Chung Cheng University
.
[32]
Barbie Hsu, who was then known for being in a music duo with her sister, was cast as the female lead.[33] Newcomers Jerry Yan, Vic Chou, Ken Chu, and Vanness Wu were discovered and hand-picked by Chai to play the F4.[34] Chai decided to retain the Japanese names for most of the characters, though read with the Chinese pronunciation. The decision caused some controversy at the time, but became standard after the drama's success.[35][36]
The drama premiered on April 12, 2001.[37] An unprecedented success, its run was extended from July to August.[38] Meteor Garden is regarded as Taiwan's first "idol drama" and earned Chai the moniker, "Idol Drama Godmother" (偶像劇教母).[39] She went on to produce two sequels, Meteor Rain (2001)[7] and Meteor Garden II (2002).[4] Chai also began the trend of adapting Japanese manga, including Peach Girl and Poor Prince.[40]
Broadcast
Meteor Garden was first broadcast on CTS, a free-to-air station in Taiwan.[41] It initially aired at 9 PM before being moved to a prime time slot.[42] The series premiered on the station on April 12, 2001 and concluded its first run on August 16. A second run of the drama began on July 31.[31] The series was broadcast in China in early 2002 until the National Radio and Television Administration ordered for an immediate suspension.[43][44] In Indonesia, it aired on Indosiar for the 2001-2 season. Its huge success took the Indonesian executives by surprise, leading to the series to be moved to a prime-time slot at 8:00 PM.[45] Meteor Garden has aired in over sixteen countries, including Hong Kong, Singapore, and Japan.[5][46]
It was edited and remastered in April 2018 for the Chinese streaming service, Tencent Video. Over 160 million people viewed it within a week.[47] As of November 2018, Meteor Garden is available to stream on Netflix in the Philippines.[48]
Home media
Main article: Meteor Garden/Home media
Meteor Garden was first released on VCD in three different sets during and after its first broadcast. A limited time DVD was made available to order in late 2001.[49] It has been released on various home media formats throughout all of Asia.
Music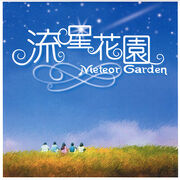 Main article: Meteor Garden Original Soundtrack
The soundtrack was released in 2001 on CD and VCD. It featured the theme songs to Meteor Garden, "Qing Fei De Yi" ("Can't Help Falling for You") by Harlem Yu and "Ni Yao De Ai" ("The Love You Want") by Penny Tai.[50] EMI also obtained rights to a large amount of English songs. It took three months and a million New Taiwan dollars to license the music with Queen's "Love of My Life" being the most expensive.[51]
Reception
Ratings
Meteor Garden had high ratings during its initial run.[52] It received an average rating of 6.99%, setting a record that it held until 2006.[53]
Accolades
Gallery
Boys Over Flowers Wiki has a collection of images on this topic. (view gallery)
Videos
Notes
References
See also
v - e - dMeteor Garden series
External links
Community content is available under
CC-BY-SA
unless otherwise noted.