Hsu Hua Feng (Chinese: 徐華鳳; pinyin: Xú Huáfèng, November 25, 1970 – December 6, 2011), also known by her English name Mary Hsu, was a Taiwanese actress and singer. She was active in show business from 1989 to 2004. Hsu is best known for her role as Dao Ming Zhuang in Meteor Garden and Doris in Love Contract.
Biography
Early life
Hsu was born on November 25, 1970 in Taiwan.[1] She graduated from National Institute of the Arts (now Taipei National University of the Arts).
Career
In 1989, Hsu competed in the beauty competition, "Miss Jiale China" (佳樂中國小姐). She soon established herself in show business, making her debut in Nu Chou Ju Chang (女丑劇場). Hsu appeared in several television productions throughout the nineties, including Shui Yun Jian (1994) and Raise the Red Lantern (1995).[2][3] In 1998, she released a photo book and an album, both titled If in Heaven.[4] Hsu had a guest role as Dao Ming Zhuang in the hit series, Meteor Garden, in 2001.[5] Hsu also appeared in Seventh Grade (2003),[6] Top on the Forbidden City (2004),[7] and Love Contract (2004).[8]
Personal life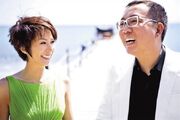 Reportedly, Hsu had relationships with Hong Kong actor Deric Wan and director Xu Zhong Hua among others. In 2004, she entered into an extramarital affair with businessman Tang Wei Shi (湯偉時).[9][10] Tang eventually divorced his wife. In 2008, he supported Hsu during her first bout with cancer.[11] Hsu and Wang decided to marry the following year. They had their marriage notarized in January, before having a wedding ceremony in Bali that July.[12][13]
Illness and death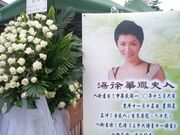 In January 2008, Hsu was diagnosed with stage three stomach cancer. She underwent a gastrectomy, removing nearly all of her stomach and parts of her pancreas and spleen.[14] She had chemotherapy and radiotherapy sessions for a year afterwards. Hsu spoke about her cancer experience in April 2009.[15] In December 2011, Hsu's condition quickly deteriorated after a cancer reoccurrence. She died days later on December 6, 2011 at Taichung Veterans General Hospital in Taichung, Taiwan at the age of forty-one.[16] Her husband remained by her side the entire time.[2] A memorial ceremony for Hsu was held on December 9.[17]
Filmography
Television dramas
Year
Title
Role
Notes
1990
Nu Chou Ju Chang
You Chai Liang Du Lai An Ling
1991
Zuo Lin You She
Shao Xiao Qi
Ai Zai Chun Feng Li
Ye Pei Di
1992
Qi Se Qiao
Mu Ci Li
Wo De Baba Shi Zhu Bo
1993
Bao Qing Tian
Liu Xuan Jiao
Hong Xiu
Huo Yu Feng Huang
Li Ling
Yu Da Fu De Ai Yu Hen
Wang Ying Xia
1994
Shui Yun Jian
Xu Su Qing
Xue Lian
Xu Ling Yu
Gui Ke Lin Men
Li Shuang Shuang
1995
Raise the Red Lantern
He Ling Di
The Seven Heroes and Five Gallants
Li Yu Hou
Qing Ai Hong Chen
Chu Xiang Ru
Wo Ben Shan Liang Ⅱ
Su Jing Jing
1996
Taipei Hui Gu Niang
Fang Yan Ru
Tian Shi Zhong Kui
Liu Shuang Hong
1997
Tian Shi Shi Nan Ren
Chen Yi Ling
Zai Jiao Yi Sheng Baba
Wang Jia Hua
Wo Men Yi Jia Dou Shi Ren
Xu Li Hua
Shi Shan Ni
1998
Fu Zi Guan Xi
Mei Lin
Tao Hua Qing
Qing Jie
2001
Meteor Garden
Dao Ming Zhuang
2003
Seventh Grade
Xu Pei Qi
Mimosa
An Man Yun
2004
Top on the Forbidden City
Monica
My Boyfriend Is a Superstar
Kang Kai Lin
Love Contract
Doris
Notes
References
External links