Yuriko: "How do you do? My name's Yuriko Asai, Yuriko as in lily."
Maekawa: "My name's Maekawa. They say that a name tells you a lot about a person. And you are just like a lily."
— Maekawa flirts with Yuriko at a party
Maekawa (前川, Maekawa) was a possible heir or president of a company. He was most likely affiliated with the Lionel Group, who hosted a party he attended.
Biography
Maekawa was involved with business somehow, possibly being a heir or president of a company. He attended a party hosted by the Lionel Group, where he met Yuriko Asai. Maekawa flirted with her, but fled when Tsukushi Makino caused a scene by pouring champagne on Yuriko.[1]
Physical appearance
He had short hair, a plain face and small nose. Despite his normal appearance, he was most likely rich, so his suit and bow tie were probably expensive.
Behind the scenes
Character notes
Portrayals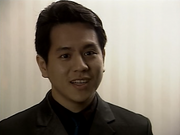 A version of Maekawa appears in the second episode of Meteor Garden. He is portrayed by an unknown actor. Like in the manga, he flirts with Bai He (Yuriko). He then rushes off to fetch a napkin when Shan Cai (Tsukushi) pours a drink on Bai He.
Appearances
Boys Over Flowers
Volume 1
Volume 3
Volume 4
Volume 5
Volume 6
Volume 7
Volume 8
Volume 9
Volume 10
Volume 11
Volume 12
Volume 13
Volume 14
Volume 15
Volume 16
Volume 17
Volume 18
Volume 19
Volume 20
Volume 21
Volume 22
Volume 23
Volume 24
Volume 25
Volume 26
Volume 27
Volume 28
Volume 29
Volume 30
Volume 31
Volume 32
Volume 33
Volume 34
Volume 35
Volume 36
Jewelry Box
Other
References
See also