"Liu Xing Yu" (Chinese: 流星雨; pinyin: Liú Xīng Yǔ)[1] is the title track from F4's debut album Meteor Rain. It was released on August 28, 2001. The song has since become regarded as the group's signature song.
Background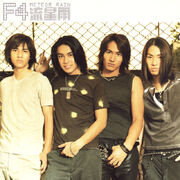 Following the success of Meteor Garden (2001), the four male leads, namely Jerry Yan, Vic Chou, Ken Chu, and Vanness Wu, were shot into stardom.[2] They formed a boy band F4, named after the clique in the show, with the help of producer Angie Chai.[3] Their debut album was released on August 28, 2001.[4] It sold over 200,000 copies within a few days.[5]
The title song, "Liu Xing Yu," is a Chinese cover of Ken Hirai's "Gaining Through Losing" from his album of the same name.[6] It has since become one of F4's most popular songs.[7] They sang it when they reunited for Jiangsu TV's Spring Festival in 2013.[8] F4 had another reunion in October 2020 on Jiangsu TV's 1001 Night Festival and performed two songs, including "Liu Xing Yu."[9] The song was also featured in the 2018 remake of Meteor Garden. It was also included on the soundtrack.[10]
Staff
Lyrics / Composition: Ken Hirai
Arrangement: Shiro Sagisu
Chinese adaptation: Wu Yukang
Lyrics
Vic Chou:
温柔的星空
应该让你感动
我在你身后
为你布置一片天空

Jerry Yan:
不准你难过
替你摆平寂寞
梦想的重量
全部都交给我

Vanness Wu:
牵你手
跟着我走
风再大又怎样
你有了我
再也不会迷路方向

Chorus:
陪你去看流星雨
落在这地球上
让你的泪
落在我肩膀
要你相信我的爱
只肯为你勇敢
你会看见
幸福的所在

Jerry Yan:
伤感若太多
心丢给我保护
疲倦的烟火
我会替你都赶走

Vic Chou:
灿烂的言语
只能点缀感情
如果我沉默
因为我真的爱你

Ken Chu:
牵你手
跟着我走
风再大又怎样
你有了我
再也不会迷路方向

Chorus:
陪你去看流星雨
落在这地球上
让你的泪
落在我肩膀
要你相信我的爱
只肯为你勇敢
你会看见
幸福的所在

Vanness Wu:
雨和云渐渐散开
洒下一片温暖
我要分享你眼中
的泪光

Chorus:
陪你去看流星雨
落在这地球上
让你的泪
落在我肩膀
要你相信我的爱
只肯为你勇敢
你会看见
幸福的所在

陪你去看流星雨
落在这地球上
让你的泪
落在我肩膀
要你相信我的爱
只肯为你勇敢
你会看见
幸福的所在

Vanness Wu:
你会看见
幸福的所在
Vic Chou:
Wen rou de xing kong
Ying gai rang ni gan dong
Wo zai ni shen hou
Wei ni bu zhi yi pian tian kong

Jerry Yan:
Bu zhun ni nan guo
Ti ni bai ping ji mo
Mong xiang de zhong liang
Quan bu dou jiao gei wo

Vanness Wu:
Qian ni shou
Gen zhe wo zou
Fong zai da you zen yang
Ni you le wo
Zai ye bu hui mi lu fang xiang

Chorus:
Pei ni qu kan liu xing yu
Luo zai zhe di qiu shang
Rang ni de lei
Luo zai wo jian bang
Yao ni xiang xin wo de ai
Zhi ken wei ni yong gan
Ni hui kan jian
Xing fu de suo zai

Jerry Yan:
Shang gan ruo tai duo
Xin diu gei wo bao hu
Pi juan de yan huo
Wo hui ti ni dou gan zou

Vic Chou:
Can lan de yan yu
Zhi neng dian zui gan qing
Ruo guo wo chen mo
Ying wei wo zhen de ai ni

Ken Chu:
Qian ni shou
Gen zhe wo zou
Fong zai da you zen yang
Ni you le wo
Zai ye bu hui mi lu fang xiang

Chorus:
Pei ni qu kan liu xing yu
Luo zai zhe di qiu shang
Rang ni de lei
Luo zai wo jian bang
Yao ni xiang xin wo de ai
Zhi ken wei ni yong gan
Ni hui kan jian
Xing fu de suo zai

Vanness Wu:
Yu he yun jian jian san kai
Sa xia yi pian wen nuan
Wo yao fen xiang ni yan zhong
De lei guang

Chorus:
Pei ni qu kan liu xing yu
Luo zai zhe di qiu shang
Rang ni de lei
Luo zai wo jian bang
Yao ni xiang xin wo de ai
Zhi ken wei ni yong gan
Ni hui kan jian
Xing fu de suo zai

Pei ni qu kan liu xing yu
Luo zai zhe di qiu shang
Rang ni de lei
Luo zai wo jian bang
Yao ni xiang xin wo de ai
Zhi ken wei ni yong gan
Ni hui kan jian
Xing fu de suo zai

Vanness Wu:
Ni hui kan jian
Xing fu de suo zai
Videos
References
See also