The Lilies (リリーズ, Rirīzu) are a trio of best friends. The group was named for their leader, Yuriko Asai who was named after the lily flower.[1] They attended Eitoku Academy and were in the same class as Tsukushi Makino during high school. The girls were known for constantly antagonizing Tsukushi, though they occasionally sucked up to her.
Members
Behind the scenes
Notes
Portrayals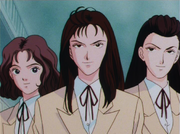 The girls are regular antagonists in the 1996 anime, in which they are voiced by Yoshiko Shimizu (Yuriko), Sahori Kajikawa (Erika), and Nami Sato (Minako). Their appearance and personality are kept the same, though they appear slightly more often than they do in the manga. An example being when they attempt to befriend Tsukushi once they think she is dating Tsukasa, whereas they only try not to be rude to her in the manga. The girls bully Tsukushi off-and-on for the rest of the series. In the finale, they have moved on to a new target.
In Meteor Garden (2001), the trio is changed to a duo comprised of Bai He (Yuriko) and Qian Hui (Erika). The change is carried to the 2018 remake, in which the girls are renamed Jiang Bai He (Yuriko) and Li Xin Hui (Erika).
The Lilies appear as regular characters in Hana Yori Dango (2005) and Hana Yori Dango Returns (2007). They are portrayed by Saki, Aki Fukada, and Emiko Matsuoka. Fukada and Matsuoka have a cameo in Hana Yori Dango Final (2008).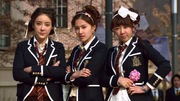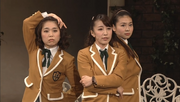 The girls are played by Nami Tamaki (Yuriko), Akiko Kimura (Minako), and Momoko Otaishi (Erika) in Hana Yori Dango: The Musical (2016).[4] Unlike the manga, they do not appear to have a particular animosity towards Tsukushi. They, nevertheless, bully her with the rest of the school. The Lilies perform two songs, "Cut Down Tsukushi" and "Chance."
In Hana Yori Dango (2019), the Lilies are played by Yume Marika (Yuriko), Moeka Wakakusa (Erika), and Natsuki Suzumina (Minako). They appear in large amount of the school scenes, but play a minor role in the plot. The girls perform only one song by themselves, a reprisal of "Kick Out—Banished."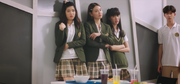 Appearances
Boys Over Flowers
Volume 5
Volume 6
Volume 7
Volume 9
Volume 10
Volume 15
Volume 18
Volume 20
Volume 21
Volume 22
Volume 23
Volume 25
Volume 27
Volume 28
Volume 30
Volume 31
Volume 32
Volume 33
Volume 34
Volume 35
Volume 36
236
237
238
239
240
241
"Night of the Crescent Moon"
Other
Meteor Garden (2018)
1
2
3
4
5
6
7
8
9
10
11
12
13
14
15
16
17
18
19
20
21
22
23
24
25
26
27
28
29
30
31
32
33
34
35
36
37
38
39
40
41
42
43
44
45
46
47
48
49
References