Ku Hye-sun (Hangul: 구혜선 , born November 9, 1984 in Incheon, South Korea) is a South Korean actress, singer-songwriter, artist, screenwriter, and director. She first gained popularity for her lead role in Hearts of Nineteen. Ku is also known for her roles in The King and I, Boys Over Flowers, Take Care of Us, Captain, Angel Eyes, and Blood
Ku starred as the female lead, Geum Jan-di, in Boys Over Flowers, which became a global hit.
Biography
Early life
Ku was born on November 9, 1984 in Incheon, South Korea. She graduated from Bupyeong Girls' High School.[1] Ku has an older sister.[2] She studied art during middle and high school.[3] In 2003, she entered the Department of Broadcasting and Entertainment at Seoul Institute of the Arts. Ku later dropped out.[4] She became an arts major at Sungkyunkwan University in 2011.[5]
Career
Early success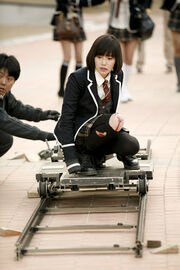 Ku first gained recognition on the internet as an ulzzang.[6] She later became a trainee at SM Entertainment.[7] Ku joined YG Entertainment in hopes of becoming a singer. However, after a difficult period, YG Entertainment CEO Yang Hyun-suk advised her to try acting.[8] In 2002, Ku made her acting debut in a computer commercial.[1] She received audience attention for her appearance in Nonstop 5 (2004).[6] Ku appeared in Ballad of Seodong in 2005.[9] Next, Ku starred in the successful daily drama, Hearts of Nineteen (2006), as country girl Yang Gook-hwa.[10] She went on to appear in two historical dramas in a row, The King and I (2007) and Strongest Chil Woo (2008).[11] In 2009, Ku reached international popularity with her appearance as Geum Jan-di in Boys Over Flowers.[12]
In April 2009, Ku released her first illustrated novel, titled Tango.[13] Illustrations from the novel were featured in her first solo art exhibition.[14] The same year, she made her directorial debut with the short film, The Madonna (2009).[15] She directed her first feature-length film, Magic, in 2010.[16] The following year, Ku established her own film production company.[17] Ku's next acting project, The Musical, experienced delays before finally airing in late 2011.[18] In 2012, she starred in Take Care of Us, Captain[19] and the Taiwanese drama, Absolute Boyfriend.[20] Her second directorial feature, The Peach Tree, premiered in late 2012.[21] Ku held her next solo exhibition, Afterimage (2012), in Seoul and Hong Kong.[22] The following year, her Anything That Leaves Yearning Is All Beautiful was held in Shanghai.[23]
Recent work
Ku returned to the small screen with a starring role in Angel Eyes (2014).[24] In her third feature, Daughter (2014), Ku also played the lead role.[25] The following year, she starred in Blood (2015) opposite Ahn Jae-hyun.[26] Ku held her fourth solo exhibit, Dark Yellow, in 2016.[27] In 2017, she had to drop out of the drama, You Are Too Much, due to health issues. She was replaced by Jang Hee-jin.[28] Ku signed with HB Entertainment in June 2019; the same agency as her then husband.[29] A few months later, she decided to temporarily halt her career to continue her studies at Sungkyunkwan University.[30] Ku continued holding art exhibitions, including Voyage: Again and Again (2020)[31] and Ku Hye-sun's New Age under Seo Tai-ji Lyrics (2021).[32] Ku will return to acting and directing in her next film, Dark Yellow.[33]
Personal life
Ku confirmed in March 2016 to have been secretly dating her Blood co-star Ahn Jae-hyun since April 2015.[34][35] In April 2016, they announced their plans to marry on May 21. They donated their wedding expenses to the pediatric ward of Sinchon Severance Hospital.[36][37] The couple registered their marriage on May 20 and held a small, private ceremony the following day.[38] In 2017, the couple appeared on the reality show, Newlywed Diary.[39] HB Entertainment announced in August 2019 that Ku and Ahn had separated and agreed to divorce proceedings.[40] Ku denied that they had come to an agreement and posted text messages between her and her husband, causing a controversy.[41] In July 2020, Ku and Ahn officially divorced after an agreement was settled by the Seoul Family Court.[42]
Filmography
As actress
Television
Films
| Year | Title | Role | Notes |
| --- | --- | --- | --- |
| 2007 | August Rush | Girl on couch | Cameo |
| 2014 | Daughter | San | Also director and screenwriter |
As director
Films
Year
Title
Role
Notes
2009
The Madonna
Director
Screenwriter
Editor
Short film
2010
Magic
Director
Screenwriter
Cameo
You
Director
Screenwriter
Short film
2012
Fragments of Sweet Memories
Director
Screenwriter
Music director
Short film
The Peach Tree
Director
Screenwriter
Music director
2013
White Dog
Director
Short film
2014
Daughter
Director
Screenwriter
Actor
2018
Mystery Pink
Director
Screenwriter
Short film
2021
Dark Yellow
Director
Screenwriter
Notes
On March 17, 2019, Ku posted a still from Boys Over Flowers, featuring her and the late actress Jang Ja-yeon. In the caption, she wrote that it was the only picture she had of them together.[43]
In November 2020, Ku talked about Boys Over Flowers on the variety show The Manager. She revealed that she broke up with her boyfriend at the time when he did not believe her about the bad reception during the shooting in New Caledonia. She also talked about suffering from a concussion in one scene.[46]
References
External links